As he lay seriously wounded in a drain in front of his house, a lone gunman stood over Randy Persaud called `Billo' and fired several more bullets into his body before escaping on foot.
Relatives say the gunman is known to them and they questioned what could have caused him to commit such a brutal act.
The father of one, whose wife is carrying their second child, died at the Georgetown Public Hospital on Wednesday night. At the time of the shooting he was sitting on a log in front of his Second Street, Agricola home. He sustained gunshot injuries to his foot, hand and chest.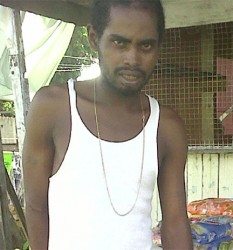 Police said in a press release yesterday that the 27-year-old was sitting in front of his home around 19:30 hrs when "a man approached and discharged several rounds at him and escaped".
Up to press time last evening there was no word of the gunman's arrest. The man's mother Debbie Persaud insisted that her son had no issues with anyone, but informed this newspaper that about two weeks back the suspected gunman had discharged shots at a car in which he was travelling. She explained that when he returned from Cayenne, French Guiana three weeks ago he had been moving around with one of his friends.
Debbie stated that the two friends had decided to go to the Mashramani celebrations in Sophia as they had not gone anywhere together for a while. She said they left her home to collect another friend who lives further down in Agricola but he was not there. "While coming out this same boy start shooting at the car," the woman said, adding that after the incident her son returned home immediately. When she questioned why he had come home so early, she recalled Persaud inquiring from her whether she had heard gunshots.
Relatives told this newspaper that it was the same gunman who had fired shots at the car that Persaud and his friend were travelling in. They could not say though if the matter had been reported to the police.
Debbie said they never expected the gunman to target Persaud because the two knew each other well as they grew up together. She added that the gunman at one time lived a short distance away from their home.
Debbie told Stabroek News that her son was a "quiet boy" who was not known to be in conflict with people. The woman said too that he was very generous. Weeping, Debbie recounted that she was upstairs with her sister watching the news when she heard gunshots. "All I hear is bam bam bam," she recalled, adding that this was followed by her son calling out for "mammy". She said that based on her understanding after shooting her son once, the gunman stood over him and fired more bullets into his body.
The dam that the gunman used as his getaway route, she said, leads to several villages.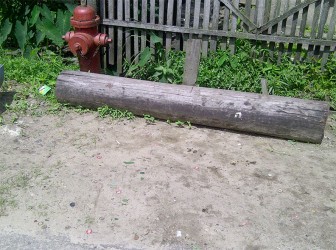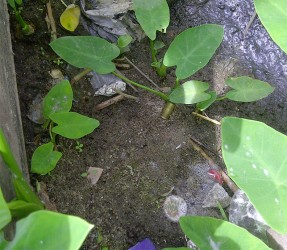 Persaud, who operated a shop in front of his house, had only returned to Guyana from Cayenne about three weeks ago to look after his travel documents so that he could have returned.
His mother said the police removed five spent shells from the area shortly after the shooting. Another shell, she said was recovered yesterday morning several feet from where Persaud fell after he was shot.
"He came with the intention to kill he… He ain't had no issue with these people at all. I can't say why they come and kill meh son fuh. Me ain't know wha they kill he fuh," the woman cried. "I want justice. I want me son get justice because he ain't do nobody nothing. He is not a criminal, he ain't got no criminal record and he ain't got no right comin and kill he."
She said that the police did drive up the dam in the direction that the gunman had fled.
After the shooting she said, it took about half an hour for them to get a car to take Persaud to the hospital. It was while undergoing treatment at the Georgetown Hospital that he died. She said she saw a gunshot wound on his foot, one on his hand and several to his chest.
She urged the police to fully investigate the matter as according to her the "boy still deh round de place" and this had her uneasy. Persaud also leaves to mourn two siblings.
This is the second fatal shooting that has occurred in Agricola recently. Last week Shem Padmore was shot in the back when he went to assist his brother-in-law in the recovery of some stolen items. He was taken to the Diamond Diagnostic Centre where he died.
Around the Web