After a month without any garbage collection service, the residents of over a dozen communities in the city are soon to get relief with the award of contracts to two waste disposal firms.
Town Clerk (ag) Carol Sooba told a press conference yesterday that the Mayor and City Council (M&CC) of Georgetown has finally awarded contracts for the provision of garbage collection services in areas that fall under Groups 7 and 8 after a tendering process instituted in February, 2015
The areas have been inundated with garbage after Puran Brothers, which had been providing non-contracted services, ceased all collection as a result of the council's non-payment of a substantial bill for its work.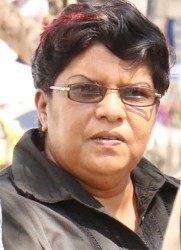 However, yesterday it was revealed that Puran Brothers has since been awarded the contract for Group 7 (West Ruimveldt, East Ruimveldt, Castello Housing Scheme, Independence Boulevard, West La Penitence, Jeeboo Land, North East La Penitence, East La Penitence (Freeman Street), Lamaha Springs and Lamaha), while Cevon's Waste Management has been contracted to collect the garbage in Group 8 (Alberttown, Kingston, North Cummingsburg, South Cummingsburg, and Queenstown). It is hoped, Sooba noted, that the firms may begin operations as of Monday.
In January, Deputy Mayor Patricia Chase-Green had penned a letter to the media in which she enumerated the challenges faced by the Mayor and the City Council in providing a reliable garbage disposal service to the citizens of Georgetown, and specifically those in the affected areas.
She noted that despite being directed by the Council as early as November, 2013, to publicly tender for garbage disposal services in these areas, Sooba had failed to do so even after numerous reminders.
Chase-Green also lamented the fact that contractors, including Puran Brothers, had been providing waste disposal services without the approval of the Mayor and Councillors and without benefit of a legally binding contract. These non-contracted services, which she noted amounted to millions of dollars, were now charged to the council.
Sooba yesterday told reporters that the outstanding payments will soon be honoured as the Mayor and Councillors had decided at the last Statutory meeting that the contractors should be paid for their services.
City Mayor Hamilton Green told Stabroek News that although the contractors did the work without proper procedures, it was the council's belief that the contractors "should not be held hostage as a result of Sooba's continuing impropriety." Instead, he said, "the contracts should be drawn up, backdated and the contractors paid."