Doubts have been raised about City Hall's ability to host the traditional activities associated with Nomination Day given the deteriorated state of the historic building.
Town Clerk Carol Sooba said yesterday at a press briefing that the Chief Election Officer had met with her and several of her officers including the City Engineer in order to ascertain City Hall's ability to host the activities necessary for the April 7 Nomination Day. Traditionally these activities are held in the Councillors' chamber however the Town Clerk noted that concerns have been raised about the structural stability of the stairway and corridor leading to this chamber which are in a state of disrepair.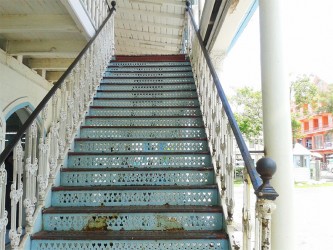 For years, the city and the government have been locked in talks on financing for the restoration of City Hall.
Usually on Nomination Day, dozens of party candidates and others traverse the area.
Sooba said that the parties may be concerned that the associated excitement and crowd control concerns might be too much for the weakened building.
Stabroek News was unable to contact Chief Election Officer Keith Lowenfield for comment on the matter.
Around the Web