Workers from the Guyana Sugar Corporation's (GuySuCo) Skeldon estate on Tuesday night stood in solidarity with their colleague Stephen Daniels who had been dismissed last year after a confrontation with the estate manager, Dave Kumar.
The workers took a decision to hold the vigil after their Guyana Agricultural and General Workers Union annual branch conference to show their support to Daniels. The workers said while they have been patient with the corporation they would like the public, the government and GuySuCo to know that the "Daniels matter" would not be forgotten.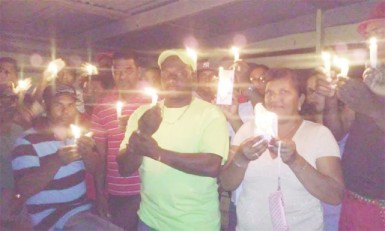 According to the workers they are pained at the thought that they are heading out for the first crop and Daniels remains jobless and frustrated. The man's house is also on the verge of foreclosure. On Tuesday evening Daniels told this newspaper that the past few months have been challenging for himself and family as he struggled to meet his monthly mortgage payments. "Whatever little saving [I] had was already used to repay the bank… So right now the bank can seize the house… it can happen anytime," he said. He also said that he has met with bank officials to explain the situation.
On September 19, 2014, Daniels was dismissed without a hearing following a confrontation he had with Kumar the day before. The dismissal sparked a protest which saw workers striking for four days. Representatives from GAWU and from the Skeldon estate had approached Kumar and asked him to recall his decision but he declined. However, on September 24, a MoU was signed where workers agreed to go back to work in return for Daniels' dismissal being varied to suspension without pay while talks proceeded at the Ministry of Labour to settle the matter. Conciliation at the ministry failed and arbitration was ordered
At the end of the arbitration, the tribunal which comprised former Chief Labour Officer, Mohammed Akeel, announced that Daniels remains dismissed. GAWU had said that it was "flabbergasted" at the finding by the Akeel tribunal upholding the dismissal. In January, the union moved to the High Court to challenge Akeel's finding.
Meanwhile, workers have said that it is an uneasy time for them in the workplace as they are fearful that they, too, could lose their jobs. However, they have indicated that it is not too late for the corporation to put an end to the matter and reinstate Daniels as GuySuCo can ill afford to spend large sums pursuing the legal matter.
Around the Web