Students who emerged winners of the Art competition, held by the Parliament of Guyana in partnership with UNICEF and the University of Guyana under the theme "Governance And Child Rights for Children in Guyana", yesterday received their prizes., a release from Parliament Office said
A team of officials from the Parliament Office, UNICEF and the University of Guyana led by the Speaker of the National Assembly, Raphael Trotman, had previously travelled to Surama, Rupununi where they distributed prizes to the winners who reside there.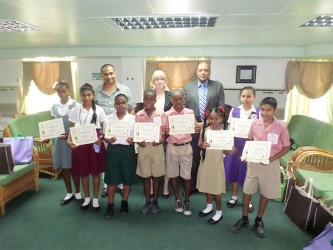 Speaking at the ceremony yesterday, Trotman said the focus of the competition was to encourage and bring visibility to child rights in Parliament.
The release said that Resident Representative of UNICEF, Marianne Flach stated that UNICEF was pleased to have been associated with the competition.
The release said that she commended Trotman and the 10th Parliament of Guyana for recognizing the importance of allowing children to express themselves.
This competition was opened to children within the age groups of 4 –18 residing in all 10 regions.
Around the Web