By Roger Wong
"I wanted a better life but I didn't want it to come this way," were the words of Tamika Miller just before she received the keys to her new house, as she remembered a year ago when she survived being stabbed 27 times by her enraged husband just after she ended their relationship.
Although the physical wounds have healed, the 27 scars on Miller's body are a permanent reminder that her life was miraculously saved after the man who had vowed to love and cherish her tried to kill her before taking his own life, in front of their eight-year-old daughter.
Miller yesterday apologized for momentarily leaving the small gathering present for the dedication of her new home to dry her tears in her bedroom after she became overwhelmed with emotions.
Although, the 29-year-old mother of one said it was not a day to cry, holding back her tears became impossible as she thanked Habitat for Humanity, Scotiabank, Courts, Demerara Bank, Qualfon and the Beharry Company for offering her a fresh start.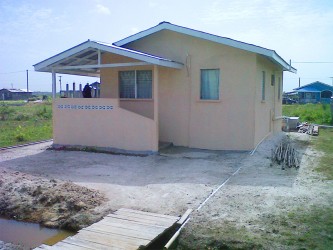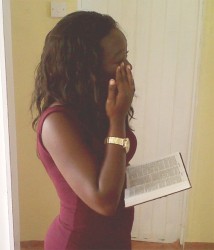 After Miller's plight hit the media last May, Habitat for Humanity was moved by her story to provide a comfortable home for her. Her house at Goed Fortuin was at the time in dire need of repairs. The intended renovation brought Miller great joy, but it was short lived after a fire consumed the house, destroying the new materials which were bought for the repairs.
She and her daughter escaped the blaze as at the time they were staying at a relative in Georgetown.
Habitat for Humanity National Director Rawle Small said the fire had sent a message. "It meant that we should not have touched that place or we needed to do something about it." It was then Miller was urged to construct a new home at a plot of land she had obtained at 2841 Recht Door Zee, West Bank Demerara.
The one flat, two-bedroom concrete building which now stands on the land, Miller said, is very comfortable for her and her daughter.
Although it has no furniture, she is grateful that she doesn't have to pay rent nor is she tied to a mortgage.
An optimistic Miller, who spends her days working in her kitchen garden, said that she was offered a job with Qualfon and before the end of the month she will start working.
While the young mother is determined to move past the trauma she experienced and work towards building a future for her daughter, she noted that the road to overcoming the emotional scars is not an easy one.
"Sometimes you tell yourself that you forget about everything but then you go up the road [and] somebody asks you about it and [it comes flooding back]," she said, adding that sometimes she becomes afraid in the night.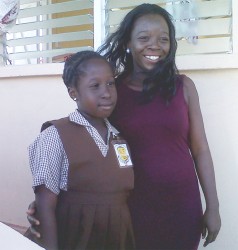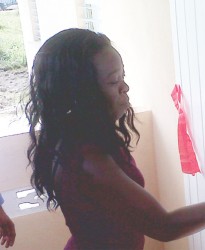 Miller said that the night she was stabbed, she and her husband had a misunderstanding about 2 am. After she woke up she decided to put an end to her relationship, which had reached the point of no return.
She said the man had gone to the house where she was staying to discuss matters concerning their daughter. Miller said that after she informed her husband about her decision to move on with her life without him, he armed himself with a knife and stabbed her to her left breast. "Ah tell he that ah forgive he, when he give me the first stab, but he said, 'no you na forgive me,'" she said, at which point she decide to run away to seek refuge. But she was offered no help since a tyre shop to which she ran was locked.
She fell in a drain in front of the tyre shop and that is when he began to repeatedly stab her. "Like ah couldn't holler or nothing because like ah lass meh vice," she recalled. "But me daghta stand up and hollering 'Stop daddy! Stop daddy!'" Miller said the cries of her daughter alerted neighbours who went to her rescue and rushed her to the hospital.
Miller's husband, Andrew Patterson, left the scene and hanged himself. Stabroek News was told that the man had two restraining orders from his wife. He had also been encouraged by his relatives to move on with his life and turn his problems over to God but the advice was ignored.
Today, Miller said the nerves in one of her hands are dead and she still has a complication with her lung which was punctured by one of the stab wounds.
She sought to send a message to young girls to be alert and to take threats seriously. "You must never say that they won't do that. He was very quiet and I never expect he coulda do that," she added.
Meanwhile, Miller's daughter, who is now nine-years-old, has received counselling and she is now progressing in school.
At the dedication service, representatives from the different donors who contributed to the establishment of the new home were all enthralled with Miller's story, referring to her as an "example" and a "powerful woman."
The dedication service closed with prayers and encouragement to Miller.
Around the Web