'If you build it, they will come.' This is the message that was emphasised yesterday when a licensing agreement was signed for a Topaz jewellery store at the soon-to-be opened Giftland Mall.
At the signing, company President Roy Beepat stated that there is a 70% fill rate already for the mall.
The mall is expected to be mostly finished in the first week of May, Beepat explained as he joked and teased about a final date of May 11th and boasted of an expected 25,000 visitors per day. "We won't open until all the work has concluded and all the [concessions] are filled so everyone can have a full and satisfying experience," he stated.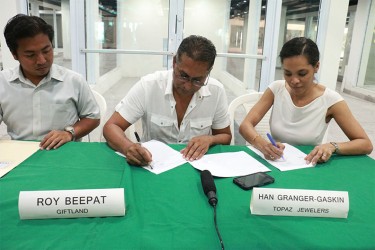 Giftland is known for its innovation and quality, he said, while adding that Topaz would fit right in.
"I hope Topaz is not new to you all as I would like to think [we] are Guyana's premier jewellery manufacturers," Han Granger-Gaskin, who represented the jewellers, said. Topaz is a relatively new company as it has only been around for about two decades, she explained. "In that time we've seen a great deal of development in our company and product. Our product is known for its innovation, quality and [it reflects] Guyanese culture. We are thrilled to open our second location at the Giftland Mall."
Beepat explained that no other jewellery store has signed on but there is space for one more. The overall investment is over US$30 million and it is expected to open employment opportunities for over 2,000 people.
Beepat called the mall part of a social development in the country and the most significant development in the country by a private company. "This mall will change how Guyanese have options in leisure," he said.
He further explained that yesterday's press briefing would be the first of many as he aims to keep the public readily updated on the progress of the mall and what to expect. "Giftland Mall is an entire entertainment package and shopping experience.
It will be opened every day of the year excluding Christmas Day and Good Friday," he added. There will not be any need for cash, he explained, as every concession will accept most debit and credit cards.
He aims to promote a user-friendly experience to all visitors of the mall. "Why would people want to come? Simply because, we offer a wide variety of services, which include the first bus terminals equipped with shade and water fountains," he said. Taxi stands, valet parking, and 120 different concessions would also be available, he added. "And the very first big screen, big sound cinemas from Caribbean Cinemas who have more than 450 screens around the Caribbean. You'll experience US$3.5 million worth of sound, screen, and technology," he confidently added. He explained that the selections for concessions are very strict as it will not be your "normal" mall.
Around the Web