On his way home from work more than six years ago, Collis Josiah was hit off a motorcycle by a speeding driver along the East Coast Demerara Public Road.
Today Josiah remains disabled, while the driver of the car, who had been overtaking a minibus on a turn, got off Scot free.
Josiah, 32, has undergone eight surgeries in the years since the December 10, 2008, accident.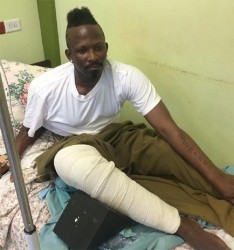 It was around 7.30 pm and Josiah was the pillion rider on the bike heading to his Victoria home from work. He said they were approaching a turn when a speeding car began to overtake a minibus but it ended up hitting the bike. The riders were flung in the air before they landed on the ground, resulting in him sustaining a broken leg.
Josiah has since lost his job after he became
incapacitated, since the injury constantly became infected, resulting in him receiving multiple surgeries, the most recent one being last week, which was done after his leg became stiff and could not bend.
The injured man said that he is expected to return to the doctor on March 27, and he is hoping that his leg will be able to bend when the cast is removed.
Meanwhile, Josiah said he was never compensated by the driver of the car, who escaped after hitting them. He said the man was later apprehended by police, since an eyewitness recorded the car's number plate which led his arrest.
After his first appearance in court, Josiah said that the driver of the car never showed up again and the matter has since been discharged.
Josiah said the last six years have been very difficult for him, since he depends on his mother to care for him, although a few of his friends have offered a little help time and again.
Around the Web