A 28-year-old Nabaclis, East Coast Demerara man was gunned down in the wee hours of yesterday morning at the Golden Grove market tarmac.
Dwayne Kennedy of Lot 40 Nabaclis, ECD died at the Georgetown Public Hospital around 5 am yesterday, nearly five hours after he was riddled with bullets. He had been attending an event called the 'Friday Night Swing' at the market tarmac.
A police statement said Kennedy was in the Golden Grove Market area when he was approached by four men, one of whom discharged rounds at him from a firearm and escaped. The statement said investigations were in progress.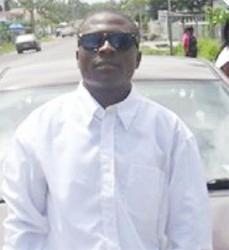 When Stabroek News visited Kennedy's home in Nabaclis, family members were gathered in the house and praying for his mother and siblings. They were also praying for justice.
His mother Cheryl Berkshire, 53, stated that Kennedy's death stemmed from an old grievance between him and another young man in the village. She stated that Kennedy's killer had attacked him two years ago. "They beat him with gun and he fainted and they wait till he wake up and beat him again. We reported it but nothing came out of the story," she said.
Berkshire said her son's killer had passed their home a few months ago and yelled that he was going to kill Kennedy before the year ended. "We know the killer. He lives right in this village," she said.
She added that she had advised her son to join the Guyana Police Force "so that he could protect himself from this boy" but he had refused. She said the young man was persistent and would stir up trouble with her son.
"He even broke into my house and thief," she said. "I know he killed my son and justice will prevail in Jesus name," she lamented. "As a mother it's hurting and burning hotter than ever. Only God knows what I'm going through but I'm trying to be strong for myself and my children," she said.
An eyewitness told Stabroek News that Kennedy and a group of friends were gambling at a shop during the 'Friday Night Swing' when a young man rode up on a motorcycle, jumped off and started shooting at Kennedy. The eyewitness stated that the shooter jumped back onto his bike and rode away.
The eyewitness stated that when they checked Kennedy, they noticed wounds to his neck, stomach and head.
Berkshire recalled that around 6 pm, Kennedy had left home to go to the Golden Grove market to look for a spot for her to sell plantain chips at the 'Friday Night Swing'. Berkshire, however, stated that she changed her mind and went to bed early that night.
"Something tell me call him and tell him, but I did not respond to it and I didn't call him," she lamented.
She said it was around 12.30 am that she was awakened by someone calling. "This young boy come to the house and seh 'Cousin Cheryl come now Dwayne get shoot up pon the market,'" she said.
She added that when she arrived at the market persons had already transported him to the hospital. "When I reach the hospital he was fighting for his life and the doctor call me and said your son got three shots," she recalled.
"I said son if you could hear mommy give me a sign and he keep grabbing my hand tight. I see his eyes blinking and he was shaking his head," she said. "I saw that as a sign that he would make it," she said.
But the doctor told her that he would not since a bullet had ruptured part of his brain and it had shut down. He subsequently died.
A post-mortem examination is expected to be performed tomorrow.
Around the Web