An early morning fire yesterday raged through the home of a Prince William Street, Plaisance woman just hours before she was to bury her father, who died several days ago.
Donna Pickett woke up yesterday morning to bury her 78-year-old father, who died a week ago, and found her house on fire. The fire started around 7 am in a room on the northern side of the house.
One neighbour said she was awakened by Pickett's screams. "I heard her screaming 'Fire! Fire! and she ran out of the house," the neighbour related.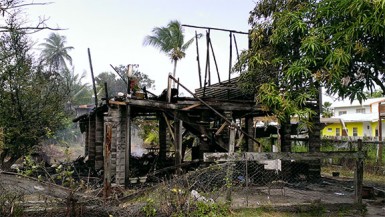 The woman said other people in the village gathered in front of the house to watch it burn but no one called the fire station.
"Nobody could blame the fire station for coming late because no one called them in the first place," she said, adding that when the three fire trucks arrived on the scene, the house was already destroyed.
"Is only the concrete and the step standing, everything gone for that girl. I'm sorry for her," the woman said. She said she was the person who called the Campbellville Fire department to ask if a report was made and she was told no. "That's why they took so long, no one called them," she added.
Stabroek News made several efforts to contact Pickett yesterday but all were futile.
Around the Web