More than two weeks after teenager Ryan Sooklall was shot to death while at a shop at Providence, East Bank Demerara (EBD), police yesterday issued a wanted bulletin for a suspect.
The suspect was identified as Jermaine Simon, called 'Lapsy,' 24, of Lot 41 Norton Street, Bagotstown, EBD.
According to the bulletin, Simon, who is dark in complexion and has a medium build, is wanted by the police for questioning in relation to the murder of Sooklall, which occurred on March 1, 2015, at Providence.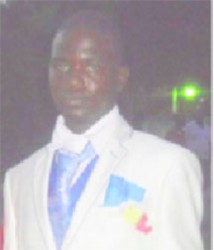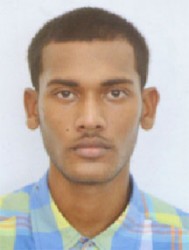 Anyone with information that may lead to the arrest of Simon is asked to contact the police on telephone numbers 225-6411, 226-1326, 227-1149, 226-9941, 911 or the nearest police station.
Police had initially held two persons but Simon, said to be the prime suspect, was never detained.
Sooklall, 19, was shot in what is believed to have been an act of retaliation while he was drinking with a friend at a shop at Parker Street, Providence.
According to police, a man armed with a firearm approached and discharged several rounds at Sooklall before escaping on a bicycle. Sooklall was hit to the back, said police, who added that the wounded youth was later pronounced dead on arrival at the Diamond Diagnostic Centre.
Stabroek News had been told that the shooter had accused Sooklall and others of throwing a channa bomb at his house and discharging rounds.
Reports are that the police had even gone to Sooklall's home looking for him earlier in the day and the shooter had warned that the police should find Sooklall before he did.
Around the Web