Just days after reporting other employees for stealing chickens, a poultry farm manager was found dead on Sunday in his cabin at Yarrowkabra, Soesdyke/Linden Highway with suspected stab wounds.
Errol Alvyn "Gregory" Hernandez, 61, formerly of North West, Region One, was found on Sunday around 7.30 am by a group of farm employees who noticed him missing. According to a source, Hernandez would usually turn off the farm's generator every day at midnight. However, on Sunday morning, employees returned to work and found the generator still running.
"They found it strange that the generator was still on, so they went to his house and call for him but he ain't answer. Several times they call and no answer. So, they called the boss man's wife and she told them to break down the door," the source said.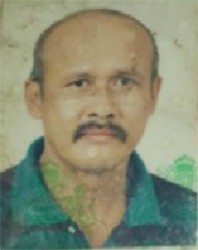 The source indicated that when the door was kicked down, the men entered and discovered Hernandez sprawled on ground in a pool of blood. There were several stab sounds about his body. "They immediately call the Timehri Station and the police came," the source added.
A police statement indicated that four men have been arrested and were in police custody assisting with the investigation. The source revealed that these men were the former employees who were caught stealing.
Hernandez' brother, Phillip Hernandez, said he received a call around 8 pm on Sunday and was informed of his younger brother's murder.
"Someone keep calling my phone and every time I answer they would hang up. So on the fourth time a girl answered and she said Gregory has died… I asked her how and she said he got stabbed," Phillip Hernandez stated.
He said he has not been allowed to see his brother's body as yet. "I don't know who did this to my brother or why they would want to. My brother was a peaceful and honest man. We need closure for my brother's death," he said, before adding that his brother was very selective about his company.
"This is a great loss for our family. It's something we will have to adjust to because he was the one in the family who was full of life. His absence is a shock to all of us. I can't believe this has happened to him…I was very close to my brother…I made sure he was taken care of whenever he was sick," he added.
Phillip Hernandez stated that his brother had recently caught a group of workers stealing chicken from the farm and had reported them. He stated that these men were fired and a new batch employees were hired.
When Stabroek News visited the farm yesterday, Phillip Hernandez and other relatives were leaving the farm where his brother lived alone.
Stabroek News was told that Hernandez only recently left his longtime home in Sandy Babb Street, Kitty and moved to Yarrowkabra for work.
He was a former member of the Guyana Defence Force.
Around the Web