Clifford Crum-Ewing yesterday urged all to put their differences aside and ensure that his recently slain son's activism was not a wasted effort.
"He has opened the door for us all. It is for us to start walking through that door," the composed man said at a vigil organised by members of civil society in honour of slain political activist, Courtney Crum-Ewing. The event, which was held at the Parade Ground during the late afternoon hours, saw approximately 250 persons in attendance.
When Stabroek News left the ground, half an hour before the vigil was scheduled to end, the crowd was growing.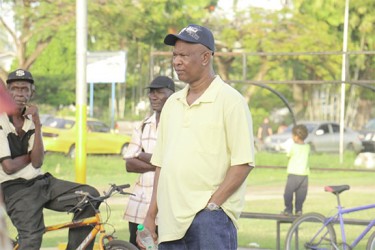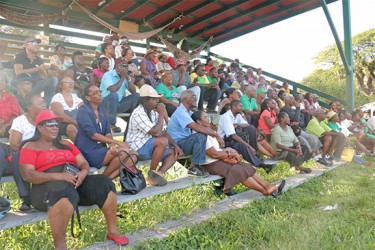 Courtney, a 40-year-old father of three, was brutally gunned down a week ago in the Diamond area where he had been urging persons to vote at the upcoming May 11 elections to get the PPP government out of office. He sustained five gunshot wounds, including three to the head.
There is mounting pressure on the police to solve this case given its political undertones.
A senior police official, giving an update yesterday, told Stabroek News that the two men arrested last Friday remain in police custody. He said investigators have managed to obtain "two other images and they remain in custody assisting us with our investigation."
The official said the police are in the process of "putting the pieces together." Stabroek News has been unable to ascertain how investigators have managed to link the duo—said to be residents of the same East Bank community where Crum-Ewing was killed—to the crime, but they are being referred to as suspects by the police.
It is unclear what has become of a car which had been impounded by the police as part of their investigation.
So far, police have reviewed two sets of surveillance footage but nothing useful was seen.
Meanwhile, the elder Crum-Ewing was part of the crowd that turned up to honour Courtney. Earlier in the day, he stood with protestors outside the office of Attorney General Anil Nandlall.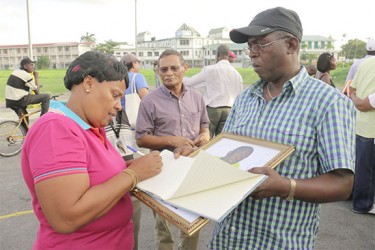 For weeks, his son had staged a one-man picket outside Nandlall's office over statements the official had made in a recording that was made public last year. It was as a result of this protest action that he said he was threatened by two government linked officials. Their names were given to the police but from all indications the man's reports were never investigated. Persons close to Crum-Ewing strongly believe that his death is linked to his political activism.
Speaking to Stabroek News at Parade Ground, the elder Crum-Ewing, who is an ex-policeman, said when he heard of his son's activism he wasn't happy but "I could not change his mind." He said he was afraid of the fact that his son was like "one man against the world. He being alone trying to achieve a goal that I honestly feel that should have happened in a more organised way and not just by one person."
Describing his son as a loner, he said Courtney was not affiliated with any political party but rather just wanted to be independent. "The fact of the matter is why somebody couldn't say to him,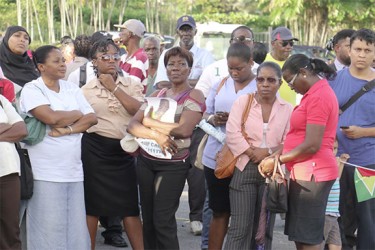 'Courtney don't ever go out there by yourself…?' But then again when something is designed to happen, it happens. Courtney did what he did proudly. He enjoyed doing what he was doing. He knows wrong from right and he knows what was going on in this country is totally wrong and he decided that he needed to stand up against it," he added.
The elder Crum-Ewing said one of the things that bothers him about Guyana is that "we always make our decision too late. What I am seeing today, I feel good about. But couldn't I have seen that a few months ago?"
He said that he was comforted by the fact that his son had achieved his goal.
Asked how assured he is that something will come out of a police investigation, he said: "When I look at the support we are getting, I honestly believe that this is not going to be swept under the rug. That's my feeling and it is a very good feeling at this time."
He said he has nothing to say to those responsible except that "it's all in God's hands.
"I am hoping that the people of this country don't ever lose their temper and patience and try to create any kind of trouble, [or] to cause anybody else's death. I just want them to do what they have to do… to exercise their rights in a very diplomatic manner."
He said the people cannot be silenced and have the ability to let all know their position without creating trouble. He also said that on May 11 victory is assured. "I am appealing to the people of this country, whether you are pink, you're blue, you're brown, polka dot, you're yellow, Indian, come together!" he urged, while adding that a division will carry the country "further down into the drain."
Crum-Ewing said when he looks back at what occurred last Tuesday, he keeps asking himself, "Whatever happened to freedom of speech? What happened to the laws of this country?"
Among those at the vigil were Guyana Bar Association President Ronald Burch-Smith, newspaper columnist Freddie Kissoon and trade unionist Lincoln Lewis.
Around the Web