Quason Roberts, who was found guilty of armed robbery including a carjacking, was yesterday given a second chance.
City Magistrate Judy Latchman, who presided over the trial of Roberts, 23, a mechanic, had deferred sentencing at the previous hearing in order to facilitate the presentation of a probation report.
At yesterday's hearing, Magistrate Latchman noted that having heard the probation report and taking into consideration that Roberts is a first time offender and also the major provider for his family, he would be allowed to enroll in the Skills and Knowledge for Youth Employment (SKYE) programme so that he can further his studies and become a better mechanic.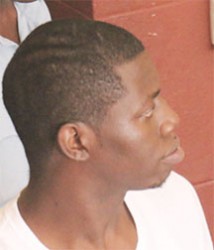 However, the magistrate also warned him that if he fails to attend the programme he will be sentenced to 48 months imprisonment.
Roberts was convicted of an armed robbery that was committed on October 18, 2014 at East La Penitence, Georgetown. It was alleged that being armed with a gun and in the company of others, he robbed Jermaine Knights of a car, valued $2.8 million, belonging to Troy King. It is further alleged that at the same time, he robbed Knights of his $50,000 cellphone and $43,000. Roberts was also accused of using the gun to rob Theresa Fredericks of a Samsung Galaxy smartphone, a quantity of cash and a purse, amounting to $66,000.
When Roberts first appeared in court before Chief Magistrate Priya Sewnarine-Beharry, the police had stated that on the night in question Knights had journeyed to East La Penitence with Fredericks to pick up another passenger. While they sat in the car waiting for the other passenger to join them, Roberts, in the company of others, approached and held them at gun-point, the court was told.
After a report was made to the police, information received led to Roberts' apprehension. The lawmen were, however, unable to apprehend the other persons implicated in the robbery.
Following his sentencing yesterday, a joyful Roberts was escorted out of the courtroom and was seen speaking with an official from the SKYE programme. He later left with his girlfriend.
Around the Web