Murder accused Daveanand Albert, who died after being found unresponsive in his cell at the New Amsterdam prison last week, succumbed after a heart attack, an autopsy has found.
The autopsy was conducted at the New Amsterdam Hospital Mortuary by government pathologist Dr. Vivekanand Brijmohan.
Albert was found lying in a motionless position last week Sunday around 10 PM. He was afterward rushed to the New Amsterdam hospital, where he was pronounced dead.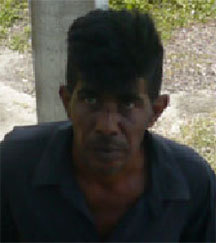 Police sources had told Stabroek News that Albert was diagnosed with a heart condition while in prison and had been treated at the New Amsterdam Hospital. He was last treated on March 2, when he was also diagnosed with tuberculosis.
Albert, of Lot 1 Bhanjara Sawmill Dam and Lot 1 Grant 1803 Crabwood Creek, Corentyne was remanded to prison on March 10, 2014, after being charged with murder of his wife. He was awaiting trial in the High Court after having been committed to stand trial on August 29, 2014 in the Springlands Magistrate's Court for the 2010 murder of his wife, Esther Liloutie Albert. Results of a post-mortem examination had revealed that Esther died of manual strangulation.
After he had allegedly murdered his wife in March 2010, he had gone into hiding for four years in neighbouring Suriname. He was eventually nabbed due to his deportation from the neighbouring country. After his deportation, he was being processed at the Springlands Police Station and an alert police officer recognised him and he was immediately arrested.
Around the Web