After standing for just over 100 years, St. Anne's Anglican Church will soon be demolished.
Time has been eating away at the pitch-pine wooden building but despite the creaking wood, the discoloured windows and the rusted roofing, a congregation still attends to worship.
"The building is not safe… it makes no sense to just patch, we need to rebuild," parishioner Myrtle Johnson, however, told Stabroek News.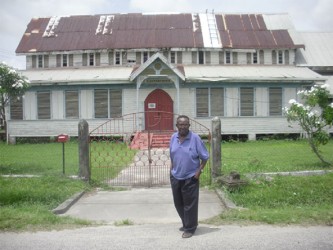 The building is to be demolished by the end of April and parishioners are hoping that the new building will be completed by year end.
Johnson has been living in Agricola all her life and St. Anne's is the only church she knows. Johnson said the church has been seeking donors and has received a lot of promises. She said to rebuild the church they have estimated that it would take some $68 million. While they do not have the money, they are going ahead in faith, she added.
Johnson explained that once the church is demolished, it is hoped that someone will buy the scrap material. Even if no one buys, she said they will donate it because God's teachings must continue for the next generation.
"There's a lot of respect for church goers and even the ones you would call bad boys respects us," she said.
Louis Johnson, the priest of the church, said the time has come for the church to be rebuilt and he hopes that the new structure will attract more people into the church. The church's congregation has been dwindling over the years. Louis recalled the days when the church would be filled with 250 people and now the church only has a mere 50.
"The parents of today don't do enough to get their children in church," Louis Johnson lamented. "In a child's tender age, they need to attend church and get to know God. They can't do anything on their own, there is a spiritual father that needs to guide them," he added.
Louis started attending the church in 1936, and he has devoted his entire life to God
Despite the waning attendance, the church does not shun its responsibility to the community and its members would usually go out in the area and pay visits to residents. If there is a death in the community and a family needs a shoulder cry on, church members would visit and assist in whatever way they can.
With the demolition of the church building, parishioners will hold services at the St Anne's Primary School, which is located next door.
According to church's Facebook page, on February 7th, 1859, St. Anne's Chapel School was opened and sometime during 1913 a fire of unknown origin razed the building. "It was rebuilt one year later with the Church and School separately as it still is today," it adds. (Rae Wiltshire)
Around the Web