A local band manager was on Sunday busted with cocaine strapped to his legs after landing at the John F Kennedy Airport in New York.
Homer Bowen, who is known locally as the manager of the Mischievous Guys band, is now sitting in jail after he was remanded to prison.
He was nabbed on Sunday after he was selected by customs officials, who observed him acting suspiciously.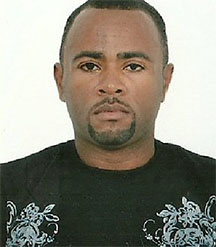 US Homeland Security Officer Daniel Suden, in court documents, said Bowen arrived in the United States on a Dynamic Airlines flight and was selected for examination. It was stated that while a baggage inspection turned up nothing, the officials observed that during the search Bowen appeared to be nervous. A "pat down" was then conducted and packages were discovered strapped to his upper legs. One of the packages was removed and a probe revealed a white powdery substance which field-tested positive for the presence of cocaine. The cocaine recovered weighed 2.437 kilogrammes. On the very day he was busted, at around 3:55AM, Bowen posted on his Facebook page: "I am doing something real big for me and my kids pray that God bless me to make it happened thank u God u are a true champion."
Hours later, he was in custody.
Late last month, gospel singer Mark Ferdinand was also busted after he travelled to the United States to uplift two suitcases containing cocaine, which he had given to another man to transport and who, unknown to him, had been arrested. Ferdinand had received a call from the man, only called "the courier" in court documents, and booked a flight on Dynamic Airways on February 25 and was promptly arrested when he touched down at the airport in New York.
Drugs continue to have easy passage at the Cheddi Jagan International Airport, Timehri pointing to persistent security holes at the airport. The failure of the security arrangements at the airport has been highlighted by the many instances of couriers slipping through with cocaine, only to be held at their points of destination.
Around the Web