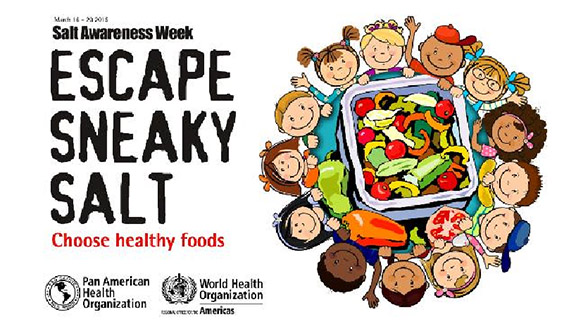 High salt intake by children can predispose them to illnesses such as hypertension, osteoporosis, asthma and other respiratory diseases, obesity and stomach cancer, the Pan American Health Organi-zation/World Health Organization (PAHO/ WHO) says.
It is therefore calling on the food-processing industry to reduce salt in their products—especially products for children—and to stop gearing the advertising of such products to them.
A press release from PAHO/WHO said that as World Salt Awareness Week is observed this week it is also calling on parents to "escape sneaky salt" by eating more meals prepared with fresh ingredients at home.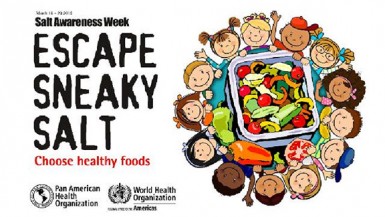 According to PAHO/ WHO advisor on noncommunicable diseases Dr Branka Legetic, "Most of us are not even aware how much salt we're eating. That's because most of the salt we consume is hidden in processed foods.
One part of the solution is for the food-processing industry to reduce salt in its products.
Another part of the solution is to use less salt in cooking and to make sure [children] eat more fresh foods prepared at home."
The release noted that children are especially vulnerable to advertising and marketing and at the same time are developing eating habits that will have a strong impact on their dietary patterns as adults.
Even during childhood, high consumption of salt has an effect on blood pressure.
But the fact that children and adolescents are at a formative stage also presents an opportunity, it added.
"Saltiness is an acquired preference, so it's possible —and from a health standpoint critical— for parents to take steps to keep children from developing a taste for salt early on," the release quoted Legetic as saying.
Adults who consume more than 5 grams of salt daily (equivalent to 2 grams of sodium) are at increased risk of high blood pressure, the leading risk factor for cardiovascular disease as well as kidney failure.
WHO guidelines recommend adjusting these limits downward for children, who generally consume fewer daily calories than adults.
The release noted too that PAHO/WHO has been spearheading regional efforts to reduce dietary salt in the Americas through joint action among governments, health experts, industry representatives and nongovernmental groups since 2009. In 2013, the PAHO/WHO-led Salt Smart Consor-tium developed an action plan that calls on food processors to voluntarily reduce salt levels in their products, proposing specific targets for reduced salt in food groups ranging from breads, cookies and cakes to processed meats, mayonnaise and soups.
The plan also calls for public-awareness campaigns that help consumers understand food labels and why it's important to consume less salt.
Yesterday, PAHO/ WHO hosted a virtual seminar titled "Salt Smart Americas" from 10 am to 12 pm.
Speakers included Legetic, Prof Graham MacGregor of World Action on Salt (WASH) and Dr Emily Ann Miller of the American Heart Association.
World Salt Awareness Week started on Monday and ends on Sunday, March 22.
Around the Web