After being restored to the magisterial bench, Magistrate Alex Moore is now presiding at the Georgetown Magistrates' Court 10, where he replaces former magistrate Geeta Chandan-Edmond.
The court which was not functioning since the dismissal of magistrate Chandan- Edmond from the judiciary was yesterday back in operation.
The Judicial Service Commission (JSC) recently concluded an inquiry into a number of matters concerning the performance of Magistrate Moore at the Sparendaam Magistrate's Court.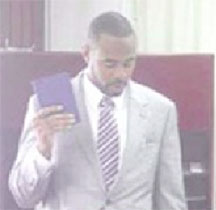 Magistrate Moore was afforded a full hearing before the Commission. One of the issues investigated by the Commission involved a complaint by a Seerojine Singh. Singh had an audience before the Commission and was also fully heard. Given the representations made to it by Singh, the JSC said it was of the considered view that in relation to Singh's complaint no further action or intervention against or with Magistrate Moore was warranted.
Around the Web