Two unemployed teenagers of Canal No 2 Polder, West Bank Demerara have been given an opportunity to become skillful in welding and machining through the 'D' Division police's C-PETS initiative.
Shameer Rasheed and Paul Samaroo, both aged 17 are undergoing six-month apprenticeship training at the Nandkumar Brijlall Welding & Machinery shop at Anna Catherina, West Coast Demerara.
The teenagers are not only being paid a stipend of $20,000 but benefit from a travelling allowance on a weekly basis. They have also been guaranteed jobs at the end of the training by the owner, Nandkumar Brijlall.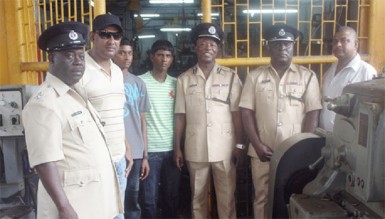 Commander/Assistant Commissioner, Marlon Chapman encouraged the youth to "grasp the opportunity in learning the lifelong skills.
He also implored them to always be disciplined, honest and to show respect to elders and be punctual at all times.
He was grateful to the businessman for assisting the youth who would become "leaders of tomorrow."
Deputy Commander, Stephen Mansel said the apprentices, who were selected during an outreach programme, are being monitored on a weekly basis.
Rasheed and Samaroo expressed gratitude to the officers, especially Mansel and promised to make the best use of the opportunity.
Through the C-PETS initiative – Creating a Positive Environment through Safer Community & Partnership – the officers are looking to empower unemployed youth and early school leavers to channel their energies in a positive way.
The vision for the initiative is for the burden of policing to be shared through partnerships, to develop safer communities, build bridges and empower citizens to develop a sense of personal security.
Citizens would also be able to restore pride by socializing and removing social ills in their communities.
Around the Web