Hundreds of people swarmed a small church in Albouystown yesterday afternoon to bid farewell to slain political activist Courtney Crum-Ewing who was hailed as a defender of democracy.
People flooded through the gates of the Heavenly Light Full Gospel church on Cooper Street Albouystown, banging at the doors to be let into the funeral service to view Crum-Ewing's body. His family had to shove the doors close to prevent the swelling crowd from entering as the body was wheeled into the church.
Crum-Ewing, 40, was gunned down around 8 pm on March 10 as he was urging persons in the Diamond, East Bank Demerara community to vote at the upcoming May 11th elections to oust the incumbent PPP/C government. A post-mortem examination revealed that he was shot a total of five times, including three times to the head.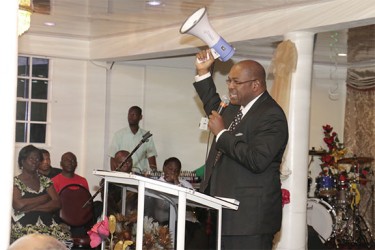 The political activist last year had staged a one-man protest outside the office of Attorney-General Anil Nandlall calling for him to resign following a leaked recording of his making threats against the Kaieteur News.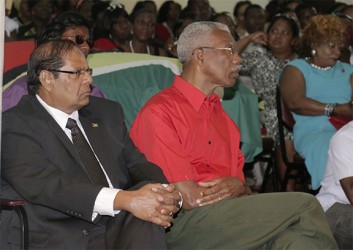 "Farewell my brother, your voice will not be stilled…I promise you will be given justice," attorney Nigel Hughes said in an impassioned speech at the funeral service. He stated that yesterday, everyone was "very pained and hurt" to have to lay Crum-Ewing to rest.
"We are very, very pained and hurt this afternoon. We have been from the time the news broke that night, also equally angry about what is happening but in our anger we will not be provoked. And even though we are pained and we are hurt, we are not fatally wounded," he asserted.
Hughes stated that Crum-Ewing's enemies did not have the courage to face him. "On that fateful night they could not face him, they shot him in the back…but unlike them we are not cowards, we are not provoked, we are going to find them, the world is too small for any of them to hide," he stated. "We have reached the stage as a people where we will no longer be provoked into irrational behaviour," he added, stating that yesterday was the darkest moment before May 11 and they will not be led into temptation because their "God is stronger than anybody else."
The attorney said that Crum-Ewing was charged with disorderly behaviour because others were not brave enough to stand up for what they believed in. "I can't say sorry enough for not taking time out of my day to come stand with you," he said.
Hughes related that Crum-Ewing wrote him a letter after the charges against him were dismissed and yesterday he re-dedicated the words to the slain activist's daughters and family. "The best things in life aren't things but instead its people like you," he read from the letter Crum-Ewing had written to him. "The best is yet to come," he said. "Courtney I salute you brother," he added, noting that Crum-Ewing had left them with the most dangerous weapon-a bull horn, which he was holding and using the night he was killed. "He died for us to go and vote," he said.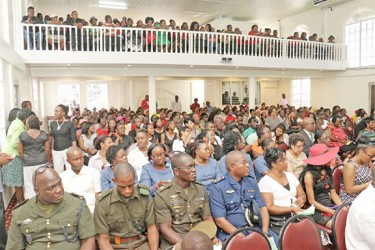 Retired Guyana Defence Force (GDF) Major General Joseph Singh stated that the Crum-Ewing's killers did not have the courage to face him. "He was a man of principles and convictions," he stated, adding that Crum-Ewing had his right to freedom of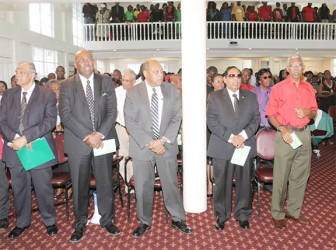 speech violated.
"Article 19 of the Universal Declaration of Human Rights says freedom of expression is the right of every individual to hold opinion without interference…Silencing the opinion of an individual is an injustice to the human right of that person," Singh said as he urged a speedy conclusion of the investigation into Crum-Ewing's killing, the arrest of the perpetrators and all those who may have commissioned them to commit such a "merciless act."
"We expect the law enforcement agencies and the government that is charged to leave no stone unturned to understand that we the people do not expect that our government can or will preside over lawlessness," Singh said.
Singh commended Crum-Ewing, a former soldier, for his fearlessness and his commitment to his principles, stating that his legacy will live on in protests. "May he rest in peace and rise in glory," he said.
Former students of Queen's College remembered Crum-Ewing as a young man who stood out and distinguished himself by following his convictions.
A representative of the Queen's College Alumni Association stated that Crum-Ewing made his classmates exceedingly proud and his life showed them true courage. "He had the conviction and the deep fortitude to do what is right. He was willing to sacrifice and give more than is required. He was faithful, he was useful and he was everywhere," the representative stated, adding that he left a legacy to not accept mediocrity.
Presidential candidate of the APNU+AFC coalition David Granger hailed Crum-Ewing as a good man who was murdered doing good deeds. He stated that the activist was a peacemaker who carried out peaceful and lawful protests to bring about change in Guyana. It was his "sad duty" to offer condolences to Crum-Ewing's family, Granger noted while adding that the Guyana Human Rights Association mentioned that the activist was murdered because he took "freedom of expression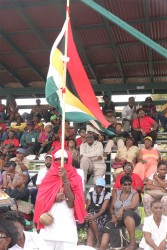 seriously."
He said Crum-Ewing's "one man crusade" was really everyone's crusade.
"He picketed, he protested and he perished for all of us. He was a martyr. He knew the risk he was taking," Granger said, adding that Crum-Ewing "bled to death for democracy."
Oswin Coggins, a relative of Crum-Ewing, who read the eulogy, stated that Crum-Ewing was a lover of sports and very committed to his school work in his younger days. "He was a champion boy in athletics. He was never the young boy who would get away to climb trees, swim or make trouble in the neighbourhood, he was the boy who was always home, he would read books and be into his school work," Coggins stated.
He recalled that Crum-Ewing always ended his conversations with his siblings by saying "I love you."
"Our brother we love you," he said on behalf of Crum-Ewing's siblings.
He added that people might see him as a hero or a martyr or relate him to great leaders who died for their cause but for them "he was a son, brother, father and friend."
He said Crum-Ewing had begun telling passengers in the buses, and on bus parks and the roadways about injustice because he wanted people to vote.
"It is your right and we all owe it to him. Courtney Crum-Ewing wanted you to vote," he stated, adding that Crum-Ewing believed and lived by one quote: "Your life is useless unless you die fighting for a cause."
"Courtney's life was not useless, he died for his cause," he stated.
Around the Web