Canada's High Commissioner to Guyana, Dr Nicole Giles last evening expressed the hope that the May 11th General Elections will be a "catalyst for constructive debate" to address the issues that are facing Guyana.
She stated that her government is committed to working with all involved to support free, fair and peaceful elections.
Giles was at the time speaking at the High Commission's reception to honour the recipients of funding under the Canada Fund for Local Initiatives Projects in Guyana, of which the Guyana Elections Commission is a beneficiary.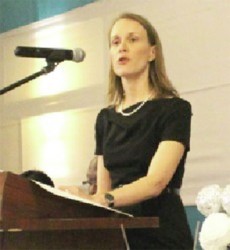 She said that Canada's support to the commission will further strengthen elections management in Guyana through the provision of over 100 laptops. The commission, she said, has been a longstanding partner of her country's government adding that she is confident of its ability to deliver free and fair elections.
The other recipients of funding are Help and Shelter and the Rainbow House for Sexual Violence Awareness Project, the Guyana Women Miners Organisation (GWMO) and the Ministry of Home Affairs. The GWMO's funding went towards refurbishing a safe house for victims of human trafficking while the ministry will purchase two-way radios and video cameras for law enforcement officers to carry out investigations.
According to the High Commissioner, Canada's support to Help & Shelter and the GWMO is geared towards building capacity to improve the socioeconomic conditions and promote the protection of the rights of women, children, youth and other vulnerable groups.
Under the Help & Shelter project, a four-month advocacy campaign raised awareness of sexual violence. The campaign targeted several groups, including members of the Lesbian, Gay, Bisexual and Transgender community, services providers and men and women from all walks of life. Meantime, Canada's support to the GWMO is helping to provide a safe space for trafficking victims to begin the process of rebuilding their lives.
Around the Web