The poultry farm manager found dead on Sunday at Yarrowkabra, Soesdyke/
Linden Highway, was stabbed 13 times, an autopsy has revealed.
The examination found that Errol Alvyn Hernandez, known as "Gregory," died of the multiple stab wounds, according to his brother Phillip Hernandez.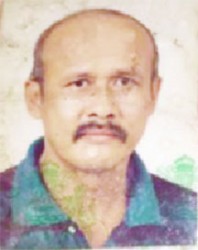 Hernandez stated that the autopsy was performed on Wednesday at the Georgetown Public Hospital by government pathologist Dr Nehaul Singh. He said it was revealed that his brother was stabbed 13 times about his body, including twice to his head and another in his back.
Errol Hernandez, 61, formerly of North West District, Region One, was found on Sunday around 7:30 AM by a group of farm employees who noticed him missing.
According to a source, Hernandez would usually turn off the farm's generator every day at midnight. However, on Sunday morning, employees returned to work and found the generator still running. When the door to the man's living quarters was eventually kicked down, he was discovered sprawled on the ground in a pool of blood with several stab wounds about his body.
Four employees who were arrested in connection with the killing were released, a police source told this newspaper. According to the source, the four employees were fired by the owner of the farm after Errol Hernandez reported that they were stealing chicken from the farm.
Meanwhile, Phillip Hernandez stated that his family was not pleased with the police investigation, which he said is moving at too slow a pace. He stated that the police were trying to pacify family members by leading them into believing that there were leads.
He also said that when he visited the farm, he noticed that it was not secure and that people could easily enter without warning. "There is no protection on the farm. It's literally five miles from the road and surrounded by bush," he said, while noting that if there were proper security his brother might have been alive today.
Errol Hernandez will be buried at the Le Repentir Cemetery on Monday, following a funeral service.
Around the Web