A man accused of choking a child was yesterday remanded to prison and ordered to undergo a psychiatric evaluation.
Leyland Murray, of Lot 170 Middle Road, La Penitence faced two charges when he appeared before Magistrate Alex Moore at the Georgetown Magistrates' Court 10.
It was alleged that on March 17, at Middle Road, La Penitence, Murray unlawfully assaulted a child. It was also alleged that on the same day, he made use of threatening behaviour towards the child. When the charges were read to the unrepresented Murray, he refused to respond.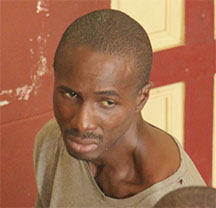 As a result, the mother of the child, who was present in court, was asked if she knew Murray. The woman said she did and explained that they live in the same neighbourhood. She also said he is known for running people around the area with weapons, such as knives and cutlasses. The woman also mentioned to the court that Murray is known for catching dogs and raping them.
The prosecutor's brief facts pertaining to the charge indicated that Murray choked the child and then lifted him up in the air in an attempt to throw him into a drain. The court also heard that the accused threatened to kill the child.
After the psychiatric evaluation was ordered and Murray was refused bail, the matter was adjourned to April 22.
Around the Web