A prisoner yesterday pleaded guilty to fatally beating a fellow inmate in the New Amsterdam Prison and will soon face sentencing.
Although originally charged with murder, Jason Orlando McKenzie, called "Psycho," 28, of Rosignol admitted guilt to the lesser count of manslaughter when he appeared before Justice Brassington Reynolds in the Berbice High Court.
McKenzie admitted guilt in the death of Sebastian Cleto, who succumbed after a fatal attack in the New Amsterdam Prison in 2011.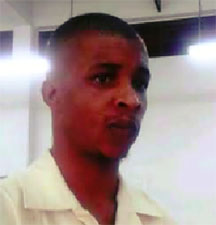 Cleto, 22, who was on remand for the murder of Nizamudeen Khan, a security guard attached to a Rosignol sawmill, was asleep when he and a fellow inmate, Andy Adonis, were attacked. Cleto and Adonis were jointly charged with murdering Khan. Their assailants were allegedly armed with iron bars and pieces of wood. Cleto later succumbed in hospital.
After McKenzie's guilty plea, Justice Reynolds ordered a probation report for March 26th, before sentencing will take place.
Last year, McKenzie was one of three New Amsterdam prison inmates charged with the attempted murder of four other inmates during an attack in May of the same year.
Prior to his trial for Cleto's death, he was being held at the Timehri Prison. Justice Reynolds has ordered prison officers to separate McKenzie from the other inmates until sentencing.
Around the Web