A twenty-year-old man was remanded to prison after he was accused of having in his possession a quantity of cannabis which was found in a calabash under a mattress.
Vishnu Singh, a resident of Lethem, pleaded not guilty to the charge which stated that he had in his possession 29 grammes of cannabis for the purpose of trafficking, when he appeared at the Georgetown Magistrates' Court 1 before Chief Magistrate Priya Sewnarine-Beharry.
His attorney Jerome Khan made an application for bail to be granted, arguing that someone else was also in custody for the same offence, that his client was not a flight risk and it was the first time he was being charged and placed before the court.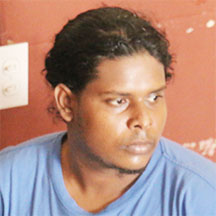 Khan told the court that on the day in question, Singh was at his friend's house sitting on a motorcycle when police ranks arrived and conducted a search. He added that nothing was found on the defendant.
However, according to Police Prosecutor Michael Grant, on the day in question about 8:40 PM, a police patrol received information about the alleged cannabis. When officers arrived at the residence, the accused was found sitting on a mattress. He was questioned about whose house it was and replied that it belonged to a friend who was not at home at the time. Singh was then told of the information received, a search was carried out and under the mattress, police found a calabash containing leaves, seeds and stems suspected to be the cannabis. Under caution, the accused told the police the illegal substance belonged to him and he used it to smoke.
Grant objected to bail citing the defendant's confession and the fact that no special reasons were provided to the court for bail to be granted.
Bail was subsequently refused and the matter was transferred to the Lethem Magistrate's Court for June 1.
Around the Web