A man who allegedly robbed a vendor of a quantity of confectionery was yesterday remanded to prison after he denied the armed robbery charge read to him by Magistrate Annette Singh at the Georgetown Magistrates' Court 11.
The allegation against Kwame Bruce, 47, of Lot 65 Cross Street, Charlestown, read that on March 17 at Camp Street, Georgetown, being armed with a cutlass,he robbed Walter Drakes of a quantity of confectionery valued $40,000.
No facts were was presented in court.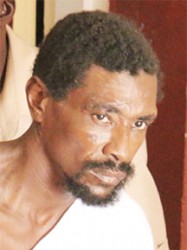 Police Prosecutor Adduni Inniss objected to bail citing the gravity of the offence and the fact that the defendant has no fixed place of abode.
The court also heard that Bruce was shot in his leg during the commission of the offence and was admitted at the Georgetown Public Hospital, treated and later discharged.
A release from the police had said that Drakes, a 46-year-old vendor was riding a bicycle along Croal Street when he was held up by a man armed with two cutlasses who took away his bag containing confectionery and escaped. However, quick response by the police had resulted in the man being apprehended, but not before he attacked the police with the cutlasses and was shot to his leg. The items were recovered.
The matter is adjourned to April 2.
Around the Web