A mother of three was yesterday sentenced to one month in jail after she admitted to wounding the wife of her ex-husband.
When Charmaine Sookhoo, 32, of 1011 Rodney Street, Cummings Park, Sophia, appeared before Magistrate Annette Singh at the Georgetown Magistrate's Court 11, she pleaded guilty to the charge that she used a bottle to the attack the other woman. The court heard that on December 8, 2014, at Stabroek Market, Georgetown, Sookhoo unlawfully and maliciously wounded Sonia Hamilton.
"I went to the market to purchase chicken and when I saw she, she start to throw words to me and pointing up she hand to me face. I tell she me ain't like that and she tell me but she already do it and she take she hand and cuff me several times to my eye. I hit her with something too, but I don't know is what but I know when I look back I saw blood," Sookhoo explained to the court. But prosecutor Adduni Inniss said on the day in question, at about 12:30 PM, Sookhoo confronted Hamilton and a fight ensued between both parties. Inniss said Hamilton was wounded by the defendant with a broken bottle.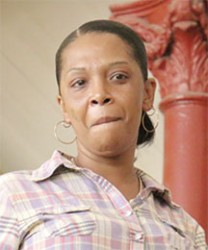 Inniss also told the court that several efforts were made before to contact Sookhoo but prove futile.
Sookhoo was subsequently sentenced to one month in jail.
Around the Web