Defending the policies of the PPP/C administration, the party's prime ministerial candidate for the May 11 polls, Elisabeth Harper says that she would contribute her expertise should the party be returned to power while brushing aside corruption allegations against the government.
"They [the PPP/C] have taken Guyana to a higher level in our development. Our economy is growing. We have better education, better health care. We have a housing programme that has really taken off and… we have also seen Guyana's profile enhanced internationally," Harper said in an exclusive interview with the Sunday Stabroek.
A career diplomat, who will demit office as Director General of the Ministry of Foreign Affairs at the end of this month, Harper also defended the government over the recent political gridlock in the National Assembly as she believes the administration would have done enough while stressing that it is time to move forward.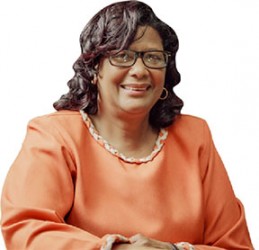 "Quite frankly I think the government did as much as it could have done. I believe so, but I think we are at a stage now this is where we are and we have to move forward so let's see where we could take Guyana…," she said when questioned.
The PPP/C announced Harper as the surprise replacement for the country's longest serving Prime Minister, Samuel Hinds, late last month and since then little has been heard from the candidate. But she said she is all about service to the country and is not in the race to "denigrate or vilify" anyone. Harper, the country's top diplomat, said Guyanese need to move away from a certain mindset since some do not realise what the country has, adding that when she travels and returns to Guyana she "appreciates my country more."
She pointed out that Guyana is going to celebrate its 50th year of independence next year and she is becoming impatient since she wants her granddaughters to benefit "fully from what Guyana has to offer." Even though the party she now campaigns for has been in government for 23 years the blame does not lie with them, she says.
"…The fact that we were not able to do as much as should have been done in the last Parliament, it frustrated some programmes from moving forward," Harper said and continued that the country cannot afford for this to happen since "time is of the essence."
And according to her she is not the only person who would say that progress was stymied in the last three years as it is "evident" while predicting that the PPP/C is not only going to win the May 11 elections but its parliamentary majority would be returned.
Asked about the government being accused of not being transparent enough in major deals and creating conditions for corruption, Harper said that should the party be returned it would improve on transparency.
"I have heard those criticisms. I don't know that they have been proven and so I would just want to say that I am sure that the government would want to ensure once it gets back into office that it would improve on its transparency; that would be my answer."
Time is now right
According to Harper, she has served for almost forty years in the public service under two administrations and she believes the time is now right for her to move on and serve the country at another level. She said whether you are a professional public servant or a politician you are still serving the people.
"I feel that I have been given the opportunity to serve the people of Guyana at another level, at a higher level. I still see it as public service because in everything that I have been doing since I started working I feel that I have been serving my country," the prime ministerial hopeful said.
Why now?
"Because the opportunity has presented itself and again I have to reiterate that I am honoured and I felt very humbled to have been selected as the prime ministerial candidate and I feel that I could contribute my expertise," she said.
She said she has seen the policies of the government over last few years and she sees them as being progressive.
With these policies, Harper believes there is need for continuity and as a result she feels she could support the work of the government at a higher level to help to advance the country's development.
While her entry into the political arena signals the end of her diplomatic career, Harper said she would continue to "serve" the country as prime minister if the party is successful. She is not a PPP member, she said when asked, but added that she is part of the civic component of the party.
When first approached by President Donald Ramotar to run alongside him Harper said she hesitated, "because something as important as that you have to contemplate.
"And for me, being the kind of person I am and the beliefs that I hold, I did tell the President that I would have to pray about it and I would have to discuss it with my family and I did both of those two things and took the decision that I have taken and I feel comfortable with it."
Speaking on her preparedness for the sometimes vitriolic campaign platform, Harper, who is soft spoken to say the least, said that having stepped into the role of a political candidate she is prepared.
She made it clear that she is not going to allow what comes with her being a political candidate to faze her since she has a job to do and a "message to bring to the people.
"Listen, there are certain programmes that the People's Progressive Party want to do for Guyanese and my message would be if the party gets into government again this is what we would like to do for you," she said.
"It is not my intention to denigrate anyone, to vilify anyone. You know we live in a society that allows us to speak freely that is our democratic culture and you know people are allowed to air their views and you respect them for that…"
She admitted that with her new role her life has changed and that her "life is not my own anymore I am sharing it with Guyanese, it is transparent."
'Crime fighting is for all'
Security has and remains a major challenge for the PPP/C government and the recent murder of political activist Courtney Crum-Ewing once again places the issue in the spotlight. When the issue was broached, Harper described the death of Crum-Ewing as sad while saying it should be condemned. Sympathising with his relatives, Harper said she is happy that the police force has said it would leave no stone unturned during the investigation.
Harper said that all Guyanese need to have zero tolerance for crime as "crime fighting should not just be if you're in government and if you are in opposition you going the opposite way.
"It is something that affects us nationally, if we have a high crime rate investors wouldn't want to come to Guyana; you feel insecure in your homes and even the local businesses can't function properly…," she said.
She pointed out that President Ramotar has outlined his 15-point plan for the police which she believes ought to be embraced.
Harper said security has to be looked at in a "holistic manner" and posited that the citizenry needs to be educated and ensure that if boys and girls leave school early there are programmes that give them "second chances."
"You are looking at empowerment for people, jobs that would allow them to earn. You are looking now at people who feel more secured because they are earning, they are able to improve their standard of living…" Harper said.
She also said the family unit is very important as the stronger the support from the family then the character of the person would be stronger.
"So you have better jobs, better families and so you can now deal with fighting crime which now would hopefully be on a reduction because you have these more secure foundations in place," she said.
Asked about providing the police force with the necessary apparatus to effectively fight crime, Harper said, "I imagine that is part of the security programme," adding, "it has to be."
On the question of whether the government has created enough jobs over the past three years, Harper said while she does not have the statistics she believes that there have been greater opportunities in the past few years but there is always room for improvement.
"That is why we are saying that we want to put more systems in place and give people more opportunities for job creation," Harper stated, while adding that the private sector has a role to play in job creation.
She pointed out that it is the government that has to provide the overarching legislation and mechanism to facilitate the private sector in this regard and noted that cheaper production costs would be of great help.
While she did not mention the Amaila Falls Hydro Project, which the government has repeatedly accused the opposition of stymieing, Harper said that cheaper energy is a focus and continues to be a focus of the administration.
'Not for me'
And even with her diplomatic background and her major role at the Ministry of Foreign Affairs, which would have defended Guyana's record as it relates to international human rights treaties, Harper did not want to offer a comment on the promotion of Sergeant Narine Lall and Constable Mohanram Dolai, the two policemen who tortured a boy in 2009, when they poured methylated spirits on his genitals and set him alight while he was in custody.
She referred to Foreign Affairs Minister Carolyn Rodrigues-Birkett's statement that the government has no authority over the Police Service Commis-sion (PSC) and it would not have been responsible governance for the administration to pronounce on the promotion of the two police officers who tortured the then 15-year-old boy.
This has been the line the government has been taken since it was heavily criticized for the promotion of the policemen.
"That is not for me to go out and speak about, we need to talk about where we want to see Guyana in the next five, ten to fifteen years that's what I am talking about. The mindset… is could we move to a new page? Could we move to not looking back…?" Harper said.
But when it was pointed out that 23 years after it has been in power the PPP's major political campaign strategy is to talk about what happened during the 'Burnham era', Harper said when she said a "new page, we are taking everybody into a new dimension." She said history cannot be forgotten but people want to hear is what is "in this new elections manifesto for me, what are you coming to me with…
"You are not looking to have our young people leave. You want young people to know that they have a stake in this country and it is not just the older people that are fighting over it and so that is what I am talking about the mindset…"
Around the Web