The body of a man discovered yesterday morning at the Kitty Seawall has been identified as 29-year-old Ramesh Katarhnauth of Sandy Babb Street, Kitty.
According to Katarhnauth's brother, Kishan Ryan Nauth, his brother left home around 9:00 on Saturday night in order to buy a pack of cigarettes and a soft drink but never returned.
The grieving man explained, that he woke up around 3:00 yesterday morning and after realizing that his brother had not returned began to search by visiting the police station, various areas nearby and even the hospital but came up empty-handed. He added that it was not until later in the day that he received a call from someone informing him that a body was discovered at the Kitty seawall. Nauth said he rushed there immediately where he positively identified the body as that of his brother lying motionless with only his pants on.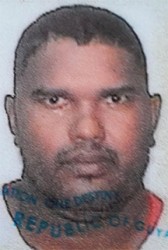 According to a police press release, investigations are ongoing into the circumstances of Katarhnauth's death, whose body was found on the Georgetown seawall at around 07:30 hours yesterday, with suspected marks of violence.
Family members are awaiting a post-mortem examination.
Around the Web