A family of Hope on the East Coast Demerara (ECD) remains in complete shock after a young relative was burnt to death on Saturday when the car he was in became engulfed in flames.
The man was identified as twenty-four-year old taxi driver, Andrew Anthony Budburg of Lot 359 Phase 2, Plantation Hope, ECD.
According to reports reaching this newspaper, the incident occurred just after midday on Saturday with a loud explosion in the village. Residents then rushed out onto the road where the Toyota 192 car which Budburg was driving was seen completely shrouded by fire. Efforts to render assistance by throwing buckets of water proved futile since the car was tightly closed and the fire grew more intense.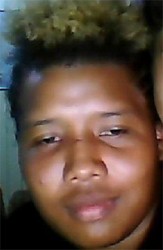 Safene Budburg, a cousin of the dead man told Stabroek News she was in the kitchen just about to prepare a meal when Andrew visited but only for around five minutes. She noted however, that he did not utter a word and neither did she say anything to him. It was moments after he left, Safene added, that she heard a very loud sound and ran out to enquire about it. She was then told that her cousin's car was burning at the end of the road and she went to the scene.
Although Safene said she shared a very close relationship with Andrew, one which was more like a brother and sister, she said that "for this year he use to operate different, before he used to be open …but everything change without anyone knowing what is the reason. If I talk to him he will just look at me and say nothing."
An eyewitness told this newspaper that everything happened so suddenly that all he saw was that Andrew drove through the street and before he could have looked back all he heard was a loud explosion. He added that after the explosion he and residents ran to the scene and tried to throw buckets of water to extinguish the fire but this proved futile. The man added that the entire car was tightly closed and as residents got closer to assist, the flames grew.
The incident has left family members puzzled as to what exactly transpired.
Around the Web