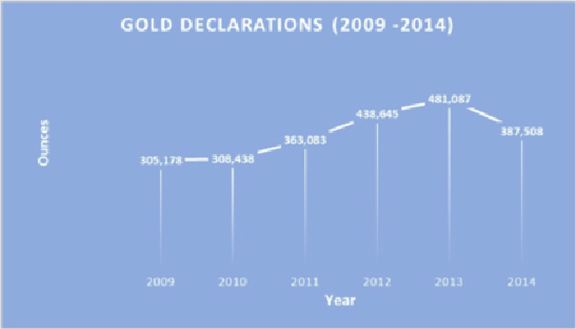 Gold declarations for the first two months of the year have plunged by almost 40%, according to data from the Guyana Gold Board and with less gold being exported earnings have also dropped significantly.
Figures show that for January and February, gold declarations stood at 56, 263 ounces compared to 92, 721 ounces for the corresponding two months last year representing a steep drop of 39.3%. Earnings from gold exports for both the Guyana Gold Board and dealers were pegged at US$55.5 million compared to US$71.4 million last year. Exports have also dropped.
Gold declarations and earnings have been on a downward spiral since last year following a record high in 2013.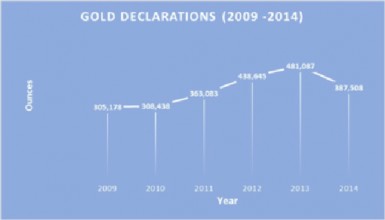 In 2009, gold declarations were 305,178 ounces, while in 2010 declarations rose to 308,438 ounces. In 2011, gold declarations amounted to 363,083 ounces increasing to 438,645 ounces in 2012.
The following year, 2013, the gold industry achieved total declarations of 481,087 ounces representing the highest level of production in the history of the industry.
However, in 2014, gold declarations dropped by almost 20% compared to the previous year, ending at 387,508 ounces.
For the past few years, gold has been a mainstay of Guyana's economy and with the precious mineral being the largest earner of foreign exchange, the decline is likely to have a significant impact on the economy.
However, two large scale gold operators –Guyana Goldfields and Troy Resources Limited- are set to begin gold-recovery operations this year and this could likely mitigate the impact of the drop in declarations from small and medium scale producers.
For the past few years, gold has been a mainstay of Guyana's economy but this year, miners, confronted with a variety of factors including a drop in gold prices, have exited the sector.
Recently, President of the Guyana Gold and Diamond Miners Association (GGDMA) Patrick Harding told Stabroek News that miners are not happy with the results of a meeting with President Donald Ramotar on March 5.
At the meeting at the International Conference Centre at Liliendaal, the miners repeated requests made at a similar meeting in January last year. Harding had related that Ramotar "said he couldn't promise anything so that's it." He said that the miners are not happy with the outcome of the meeting as they had hoped that something would have happened.
Stabroek News reported last month that miners at the GGDMA's bi-monthly meeting had slated the government for not keeping promises made to support the sector. They had said that the authorities are only playing politics while disseminating "false information" about concessions given to miners. "The reality is we haven't got anything, just press releases," chairman of the meeting Edward Shields had said. "I hope you got the message, the miners have been on a merry go round for quite a while," he had said. "We ain able with this merry go round no more."
Pointing out that despite promises, they have gotten no benefits while foreign mining companies are getting numerous concessions, the miners' vowed action in 2015 which they have dubbed the 'Year of Action.'
Shields had said that the GGDMA is very disappointed with the situation where a lot of false information is being published about miners obtaining benefits. He declared that the GGDMA has been working extremely hard while the authorities have been "playing politics."
Shields pointed out that the GGDMA had requested duty-free spare parts and Ramotar had also promised last year at a meeting with miners that he had no problem with reducing rentals, but they are still waiting for this promise to be kept. For other promises such as the establishment of an inter-ministerial task force, there was only one meeting and it was a similar case for other committees, Shields said. "The minister meets with us when it is convenient for him," Shields asserted and said that on these occasions there are photographers and reporters but nothing ever happens.
Permanent Secretary in the Ministry of Natural Resources and the Environment Joslyn McKenzie subsequently said that government continues to be supportive of the mining sector and found the comments by the miners' reps "surprising."
Around the Web