A seaman was yesterday charged with breaking into a house at Mabaruma, North West District, where police allegedly found him hiding under a bed.
Royston Scipio was placed before the court after it was alleged that on Thursday March 19, he entered the dwelling house of Carlyn Yipsam at Kumaka waterfront, Mabaruma, with the intent to steal. Scipio pleaded not guilty.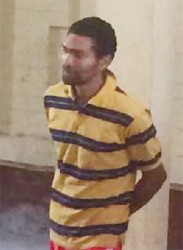 According to Prosecutor Bharat Mangru, Yipsam had secured her place and retired to bed but was later awakened by a noise around 1 am. She ventured outside to investigate but saw nothing and returned to her room. It was when she returned that Yipsam saw Scipio, who attempted to hide under the bed.
Mangru added that Scipio stayed there until the police came.
Chief Magistrate Priya Sewnarine- Beharry took into consideration the fact Scipio had no prior convictions and therefore granted him $150,000 bail. The matter was then transferred to the Mabaruma Magistrate's Court for May 18.
Around the Web