Accused murderers Devon Thomas and Randy Isaac yesterday both maintained their innocence in the Mashramani night murder of businessman Kumar Mohabir and each pleaded for a chance to be reunited with his family.
Thomas and Isaac proclaimed their innocence in unsworn statements that were given from the prisoner's dock after they were called on to lead a defence by Justice Navindra Singh, who earlier overruled no-case submissions made by their lawyers.
The men are on trial in the High Court for the murder of Mohabir, 25, of Enterprise, East Coast Demerara, who died of multiple stab wounds, in the wee hours of the morning of February 24, 2013.
No-case submissions were yesterday presented by defence attorneys Latchmie Rahamat and Peter Hugh, who represent Thomas and Isaac, respectively. The court, however, overruled the submissions and the men were called upon to lead their defence.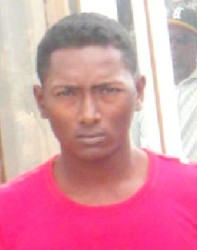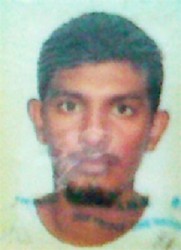 Thomas, who made no mention of being at the scene of the murder at Vlissengen Road, Georgetown, said that on the day in question, he finished working about 6.40 pm, after which he went "straight home" to Better Hope. He left home sometime after for Georgetown.
He said he caught a minibus at the Plaisance bus park on the East Coast Demerara, and travelled to Georgetown. He added that he disembarked at the Celina Atlantic Resort at the Kitty seawall, where he remained.
According to Thomas, at some minutes to 9 pm, he began walking east along the seawall to about 20 feet beyond Sheriff Street, where he saw the driver of a Canter, whom he asked for a drop to Better Hope. The accused said the driver took him up to Industry, from where he decided to walk to the Ogle area.
He said that as he walked, he was attacked by three bandits, one of whom knocked him to the left side of the face, while another relieved him of his silver chain.
Thomas said he ran away from the bandits and when he arrived home he told his brother-in-law what had transpired.
He said his brother-in-law told him that he needed to get to the hospital, since he was bleeding badly from the injury he had sustained to his face. His brother-in-law later took him to the Woodlands Hospital.
About two days later, Thomas said, the police went to his home to inform him and his brother-in-law that they were needed for questioning at the Brickdam Police Station.
He said that on arriving at the station, they were handcuffed, and about 20 minutes after they were taken to the Prashad Nagar Police Outpost, where they spent the night. They were taken back to the Brickdam Station the following day.
He said that they were later placed on an identification (ID) parade along with some "junkies" and were later told by a police officer that they were free to go. However, the police had informed him that he was a suspect in Mohabir's murder.
Thomas told the court that about 20 minutes later, he was placed back in lock-ups along with his brother-in-law. He added that his brother-in-law was given his boots by the police about five minutes after and told to run out of the station, which he did.
Thomas said at this time he asked the lawmen why he was still being detained, and he was told that he would be going to court the following morning.
He said he was taken to court the next day and was charged with Mohabir's murder. He has been remanded ever since.
In a soft tone, the accused said, "I would like to say that I'm innocent about this charge and would like to go home back with my family, because my grandfather is not too well and I would like to look after him." He had a Quran firmly clutched in his hand.
Meanwhile, Isaac said that when the police went to his home to arrest him, they showed him a photograph of himself, before taking him to the Prashad Nagar Police Outpost, where he spent three days, before being placed on an ID parade and charged.
Isaac admitted being out at the Mashramani celebrations. "Yes, I was out for Mash in a crowd dancing but I ain't jook nobody, lash nobody, nor do nobody nothing," he firmly contended.
Isaac said he did not know Navindra Mohabir—the brother of the deceased—and neither did he know Thomas, prior to being jointly charged with him.
Proclaiming his innocence, Isaac said he was charged and has been in prison since the age of 17; he is now 19 years old and would like to go home to his mother and father, whom he misses very much.
Navindra Mohabir, Kumar's brother, had testified that Thomas and Isaac, both of whom he said he knew well, were the men who stabbed and beat both him and his now dead brother.
Navindra had maintained under cross-examination that he was not mistaken about the identities of the two accused. "When I see them, I recognise them right away, 'cause I know them," he had emphasised.
After the unsworn statements were given by Thomas and Isaac, their attorneys said they had no witnesses to call in their defence.
Both the defence and prosecution presented closing arguments yesterday. The defence advanced to the jury why their respective clients should not be found guilty, while the prosecution argued that the accused should be found guilty as charged.
The defence argued that the identification of the accused was unreliable and that the ID parades were unfairly constituted in such a way that ensured they worked against their clients.
Prosecutor Stacy Goodings has, however, contended that the identification of the men was sound and reliable, as they were identified by Navindra who testified to knowing them well for a number of years.
The trial continues this morning when Justice Singh will sum-up the case for the jurors, who will deliberate over the evidence until they reach a verdict.
In her opening address, Prosecutor Goodings, who represents the state in association with attorney Diana Kaulesar, had said that on Mashramani Day, Kumar, who was with his family, was attacked by the two accused, along with other persons. She added that Mohabir was taken to the hospital where he later died.
Around the Web