A remorseful young man was sentenced to 21 days in prison yesterday after he admitted to abusing his common-law partner.
Rawle Willis, 21, of Mabaruma, told a city magistrate's court that he was sorry for his actions.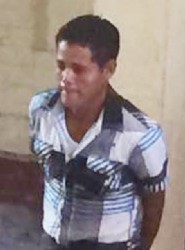 Prosecutor Bharat Mangru said Willis and his partner, Odella Ross, were together for two years and because of jealousy the man cuffed and stomped her. The prosecutor also said that Willis was drunk when the beating occurred.
When Chief Magistrate Priya Sewnarine-Beharry asked Willis if the prosecutor's account was true, he choked on his words, kept bowing his head repeatedly and said nothing.
The magistrate then stood the matter down, and Willis sat and placed his head between his thighs. When the case was called again and the magistrate asked him if he had anything else to say, Willis asked her to read the charge again. After she did so, Willis said sadly, "I'm sorry."
He was then sentenced to 21 days in prison.
Around the Web