A post-mortem examination performed yesterday on the body of Ramesh Katarhnauth revealed that he died as a result of asphyxia due to drowning, compounded by compression injury to the neck and multiple blunt trauma to the body, police said yesterday.
The body of Katarhnauth, 29, of Sandy Babb Street, Kitty was discovered on the Kitty seawall on Sunday morning with suspected marks of violence.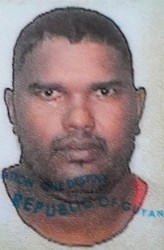 When Stabroek News spoke with Katarhnauth's brother, Kishan Ryan Nauth yesterday he was busy making preparations for the wake. He recalled that his brother was involved in an accident during March 2006 at the Houston Public Road, when the vehicle he was travelling in toppled as he and some friends were heading to the National Stadium to join in the annual Phagwah celebrations. Nauth explained after the accident Katarhnauth was hospitalized and later discharged. He had sustained injuries to his head and hands, which had even caused him to have steel in his hands.
The grieving Nauth explained that his brother used to consume alcohol years before but since he was involved in the accident he became sickly and stopped.
He said that if he had been involved in a fight before he met his demise, he would have been unable to defend himself because of the injuries to his hands. He said though that despite all, Katarhnauth lived the life of a normal human being.
He went on to describe his brother as a very loving and caring person who used to work at Guynaz building near Bourda market but stopped about three months ago, informing his relatives that he was unable to manage the job any longer.
This newspaper had previously reported that Katarhnauth left his home around 9:00 on Sunday night in order to buy a pack of cigarettes and a soft drink but never returned. His brother, Nauth had told Stabroek News that he woke up around 3:00 on Sunday morning and after realizing that his brother had not returned began to search by visiting the police station, various areas nearby and even the hospital but came up empty-handed. He added that it was not until later in the day that he received a call from someone informing him that a body was discovered at the Kitty seawall. Nauth said he rushed there immediately where he positively identified the body as that of his brother lying motionless with only his pants on.
Katarhnauth will be laid to rest today at the Cummings Lodge cemetery.
Around the Web