Accused of stealing two phones, mason Jamal Taylor yesterday told a city court that there might have been a mix up.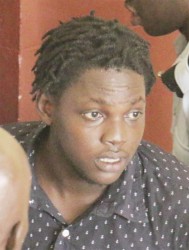 Taylor, 23, of Britton Street, Plaisance, faced a charge that he stole two cellular phones, valued $210,000, from Shawneal Jerrick on February 22, at Parade Ground, George-town.
Sweat dripped from Taylor's face when he appeared before Magistrate Annette Singh as he was visibly distressed at the court proceedings.
The man pleaded not guilty to the charges and there was no objection to bail by Prosecutor Adduni Inniss, who told the court that the phones were recovered.
Taylor tried explaining to the court that there might have been a mix up and he was told that he would get the chance to tell his story at his trial.
He was then placed on $50,000 bail and his next court date was fixed for April 7.
Around the Web