Just over three weeks after the death of a young man, who was struck down while riding his motorcycle, his family says the driver responsible is yet to be charged.
Ravindra Bagenot, 19, known as Brian, of Lot 8, Recess, Mahaicony, East Coast Demerara, was heading towards his girlfriend on March 1, when a car, said to be driven an army Major, collided with his motorcycle in the vicinity of Letter T, Mahaicony.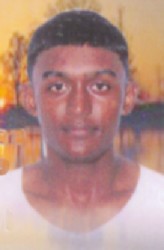 Bagenot was transported to the Georgetown Public Hospital and was in the Intensive Care Unit for a few days before he succumbed.
According to Manbahal Bagenot, the father of the dead man, he received the news of the accident the following day and he went to the hospital where he met the driver, who had promised to assist with funeral expenses. However, up to yesterday, Bagenot said, he has not received anything.
Ravindra, who was working as a labourer, was preparing to accompany his mother to the United States just before he met his end.
Around the Web