If elected at the upcoming polls, APNU+AFC coalition presidential candidate David Granger has pledged to set up a National Veterans Department to protect and advance the welfare of former servicemen and women.
Granger made the commitment in his address to over 300 ex-members of the Guyana Defence Force (GDF) and other well-wishers at a meeting in Queens, New York on Sunday.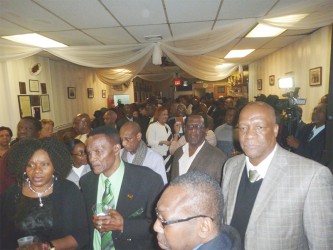 "Veterans deserve better and an APNU+AFC administration will put in place measures to protect our veterans… I give you that commitment," Granger, a retired GDF Brigadier, was quoted as saying to resounding applause from the audience at the Ex-GDF Association Hall on Rockaway Boulevard, in Queens.
According to a coalition statement, Granger also noted that the GDF will be celebrating its 50th anniversary in November but pointed out that presently very little is being done to ensure veterans welfare is being addressed in a holistic manner.
According to the statement, Granger explained that the coalition is committed to the passage of a Veterans Act, which he said will put veterans' affairs on a sound footing for the first time in the history of the GDF.
He said too that it is also in favour of establishing a full-time Veterans Commis-sion to administer veterans affairs; arranging for veterans' benefits, such as discounts on the cost of food and medicine at commercial enterprises as well as the providing books, snacks, transportation and uniforms for veterans' children who are in school; increasing pensions for veterans; setting up a veterans' trust to assist veterans with accessing land for housing and farming, among other things; and reviewing the age of retirement of all military personnel to allow for longer, satisfying and successful careers.
Around the Web