Rudolph London, already due for sentencing for the killing of his former partner, received a three-year prison sentence yesterday after admitting to having marijuana in prison.
London, 43, who recently pleaded guilty to manslaughter in the High Court, was already serving a six-month sentence for narcotics possession that began last December. When he was brought before Magistrate Fabayo Azore at the Georgetown Magistrates' Court 5, he told the court that he wished to change his original not guilty plea because he was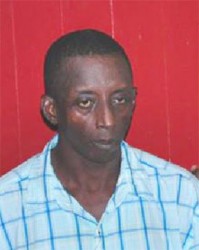 already in prison for another offence. The charge stated that on March 2, 2015, at the Camp Street Prison, he had eight grammes of cannabis in his possession.
After a brief hearing, London was sentenced to three years imprisonment for the repeat offence and ordered to pay a $10,000 fine.
On March 10, London pleaded guilty to fatally beating his former partner, Shaunell Warrick, after being read a charge of manslaughter by Justice Franklyn Holder at the High Court.
He was originally charged with the woman's murder but opted to plead to the lesser offence. His sentencing is scheduled for tomorrow after the presentation of a probation report.
Around the Web