Political activist and academic Dr Walter Rodney was killed after he or someone else attached an explosive to a "triggering device" that he had asked Gregory Smith to make, according to Smith's sister, Anne Wagner, who yesterday claimed that it was members of the Working People's Alliance (WPA) that arranged the man's subsequent departure from Guyana.
Wagner yesterday took to the stand at the Supreme Court Law Library to testify in the ongoing Com-mission of Inquiry (COI) into the death of WPA founder Rodney, who perished on June 13th, 1980 after a walkie-talkie given to him exploded.
Along with the then ruling PNC, Smith, a former Guyana Defence Force (GDF) member, has long been accused of causing Rodney's death, Wagner said her brother respected him and would never have caused him harm. He had been a "friend and confidante" to Rodney, she noted. Brief laughter from the audience followed this statement by Wagner.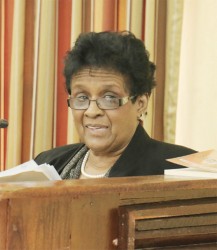 Smith has been identified as the man who gave Rodney the device and he was later whisked to Cayenne, French Guiana under a different name where he lived until December 2002, when he died of cancer.
Wagner yesterday said after Rodney's death, Smith was the target of members of the WPA who wanted him dead. However, she also claimed that it was members of the WPA who had also arranged his departure from Guyana under a different name.
A sometimes confused and emotional Wagner, who relied heavily on her 10-page statement as she was being led in evidence by her New York-based Guyanese lawyer Edward Meertins-George, said her main aim in testifying was to clear her brother's name as the murderer of Dr Rodney. She accused his brother, Donald Rodney—whom she later confirmed that she had never met before—of being a "knowing and active participant in what his brother was doing."
Wagner is Smith's oldest sister and co-authored a book—Assassination Cry of a Failed Revolution: The Truth About Dr Walter Rodney's Death—with him after his death, based on an unsigned manuscript she credited to him and statements he purportedly made during their daily chats while he lived in Cayenne. She said she published the book because it was her dying brother's wish and its purpose was to document and reveal the truth about "Dr Rodney and the worldwide betrayal of Gregory as the killer." The book was released five years after Smith's death.
Things got a little testy during her evidence when attorney Keith Scotland, who is looking into the interest of Donald Rodney, called his client to face Wagner and questioned her about statements made in the book when she would have never met or even interacted with him. She accepted that she had no personal dealings with the man but added that what she wrote was based on what her brother would have told her.
It was during this cross-examination also that it was observed that Wagner was taking cues from a young man who was sitting in the front row of the audience. With the nod or shake of his head, he signalled how she should answer. It was so obvious that the commission's lead counsel Glenn Hanoman raised and objected to the situation, forcing the COI's Chairman Sir Richard Cheltenham to caution the person.
Scotland's line of questioning focused heavily on the differences between what was written in the book and what was written in statements laid over to the COI by the police and also the uncertainty over which parts of the book she wrote as opposed to what Smith wrote. Donald Rodney had told the commission that the book was a "complete fabrication" and that his brother was in no way recruiting members of the GDF to sell him arms and ammunition or to solicit information as was claimed.
'Triggering device'
Wagner said Smith was introduced to Dr Rodney through the brother of his then girlfriend after he had left the army disenchanted. After the first meeting, he met Dr Rodney frequently and had many conversations with him although he did not meet other members of the WPA, she added.
According to Wagner, her brother was asked to make a bomb but he refused because he did not want to be part of any violence. But because of his respect for Dr Rodney and what he believed in, he agreed to assemble the "triggering device" although he wanted no part of "making the explosive." The witness also said her brother related that the triggering device was tested with the walkie-talkie device on Water Street in the presence of Dr Rodney and other WPA members "and there was some red light flashing." Her brother, she said, told them that it was a dangerous exercise since the walkie-talkie was of poor quality.
In June of 1980, she said the triggering device was collected by Donald Rodney and the boxes for that device and the explosive were built by a man in Robb Street.
After Rodney's death, she said her brother was picked up by three men and even though he told them that he wanted to be taken to the police station, they drugged him and the next time he woke up he was in his father's Kwakwani home. It was members of the WPA, whom he did not know, who picked him up and transported him in a plane, she said.
In answer to Scotland, Wagner said her brother just said plane and did not indicate it if was a GDF plane. She admitted that her brother's account differed from those of other witnesses but questioned "whose account is right."
Captain Gerry Gouveia had earlier told the commission that he recalled that when he turned up for duties as a GDF pilot at Timehri on June 14, 1980, he was given instructions to transport some persons to Kwakwani. He later found a man, woman and some children waiting in the aircraft hangar. He had said that he left Timehri at 9:08 AM and arrived at his destination at 9:57 AM. He had also said he spent about three minutes on the ground before disembarking. Based on photographs he saw in the newspaper afterward, he believes that he had transported Smith.
According to Wagner, Smith was later sent to Trinidad, where he was told that the WPA would have given him a new identity and money. But instead he was left stranded and was later forced to return to Guyana as a stowaway on a ship on which he had worked for about a week. He had also sold his watch to get money while in Trinidad, she noted.
Saying that she was experiencing mental blocks at certain intervals, Wagner told the commission that upon his return, her brother went to "the house in Alberttown" where he met with some men from the WPA whom he did not know.
"My brother was a member of the WPA but he was only connected to Walter and Donald Rodney. He was not in that circle," she said of the other members of the WPA, before adding that he did not socialise much.
She said Smith was later given a new identity and left for Cayenne, where he remained until his death, except for a visit to New York to see his dying mother.
Living on the edge
Smith, according to her, was one of the Guyanese who experienced hardships under the Forbes Burnham regime and since he could not find a job he was forced to join the GDF. He was not a member of the PNC or a sympathiser of the House of Israel, she said, explaining that she knew this based on his brother's integrity and what he would have told her.
Two weeks after he joined the army, she said Smith repaired two radars, resulting in him being sent to a naval school in the United Kingdom for a one-year training stint. On his return, she said he was asked to make a unit and was told he would have been promoted upon completion. However, in the end he saw his commanding officer taking credit for his work and he was told he would have to be a member of the PNC to be promoted.
Wagner explained that she and Smith were very close and after Rodney's death they spoke every day when he moved to Cayenne and he had expressed fear that his life was under threat by members of the WPA.
According to her, Smith was not happy being in Cayenne and he was never reluctant to return to Guyana even though in answer to Scotland she could not say why he did not return after the political regime changed and after an arrest warrant was issued for him. Even though the warrant was not served on him, she said he knew of it from the news and they discussed it.
While in New York she had encouraged her brother to remain, she said, but he indicated that he could not because it would endanger her and her family. She spoke of his life being under threat constantly, while noting that people tampered with his motorcycle and at one point his house was invaded by men with whom he had a shootout and he shot one of them in the process. She also said an "imposter" had also entered his home in the name of his son, whom he had not seen for 14 years, and it was only after the young man could not identify one of his siblings in a family album that Smith realised it was not his son. A brother who resembled him was also run off the road while driving his car and broke his neck.
"It was always living on edge," she said of her brother's life.
"If I should ever die an unusual death, the WPA killed me," were the words Smith reportedly told his sister.
He could not have gone to the police because he was a fugitive and was using another identity, she also said.
The commission continues today when cross-examination of Wagner is expected to continue.
Around the Web