Envoys of the United States, Britain and Canada were on Friday given a briefing by the Guyana Elections Commission (GECOM) on its preparations for the May 11 General and Regional elections.
A release from GECOM yesterday said that the envoys were told that the preparatory electoral processes have met all statutory requirements and timelines, and in some instances have been ahead of schedule. The early posting of the Revised List of Electors was cited as an example.
The diplomats who met with GECOM were the Chargé d' Affaires of the US Embassy, Bryan Hunt, British High Commission-er, Greg Quinn, and the Canadian High Commis-sioner, Dr. Nicole Giles.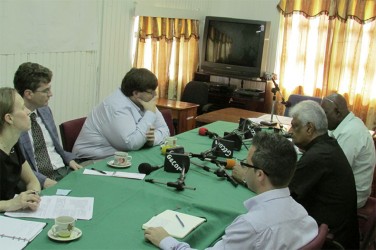 In response to queries over the adequacy of trained election day staff, GECOM said that Chief Election Officer (CEO) Keith Lowenfield related that to avoid last minute recruitment, training and selection of Election Day workers, GECOM started a rigorous training and re-training programme since September 2014 and now has a reserve pool of trained Election Day staff in excess of that needed. He also said that Polling Day staff will be contracted from the beginning of April 2015, and will again undergo a number of refresher training courses, on an ongoing basis – three days per week – three hours each day, in the lead up to polling day.
The release said that GECOM's Chairman Dr. Steve Surujbally stated that the selection of Polling Day staff was done in a fair and transparent manner. The Secretariat, he said, submitted lists of potential Returning Officers and Deputy Returning Officers to the Commission for its consideration and comments. Senior appointments were then made with agreement of the GECOM Commissioners.
The Western diplomats were also told of the new methodology to be adopted by GECOM as it relates to the investigation of applications for Proxy Voting. The release said that previously, Returning Officers probed the applications for proxy voting independently.
However, political party agents will now be actively involved in the process and will also accompany Returning Officers during their home visits, to investigate these applications.
Surujbally also stated that the Commission has enlisted the aid of political parties in the distribution of National ID Cards. He told the envoys that political parties were given a list of names of persons who are yet to uplift their National ID cards.   The uncollected ID cards would be centralized at the GECOM Secretariat three days before the elections, the release noted.
On the question of the timely release of election results, the release said that the GECOM Chairman categorically stated that the Commission would not compromise accuracy for expediency/speediness but would be aiming towards the timely and accurate announcement of the election results.
Around the Web