A footbridge at Irving and Laluni streets that leads to Vlissingen Road is in terrible condition.
The thin bridge leans slightly to one side with the right rail missing, while the flat boards that support a multitude of pedestrians and cyclists are old and some are broken at the edges.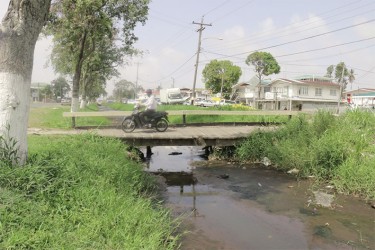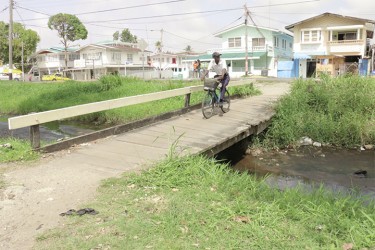 Nevertheless, many people still use the bridge to easily access Vlissingen road from Irving Street. One taxi driver parked at Irving and Laluni streets said the bridge has been in that condition for over six years.
"Even the police use it when they want reach Vlissingen fast," the taxi driver who wished to remain anonymous stated.
"Everyone uses it, children, cyclists, motorcyclists, it's dangerous but [they really have no] other choice.
It's a faster way to reach over the road," said an elderly man who had recently crossed the bridge from Vlissingen Road. He further stated the bridge has been in that condition for as long as he can remember.
Stabroek News was unable to get a comment from the city concerning the condition of the bridge.
Around the Web