By Jeff Trotman
A dismissed BOSAI worker began protesting in front the north gate of the bauxite company's Linden plant on Tuesday with the support of the General Secretary of The Peoples United and General Workers Union (PUGWU), Micah Williams.
Winworth Blair, who worked in the Mines Maintenance Department at BOSAI's East Montgomery Mine, claims that he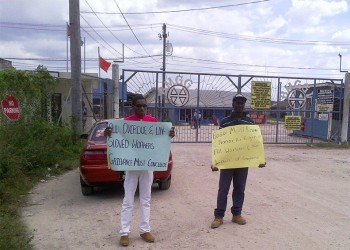 was wrongfully dismissed in February last year after he was given time off to deal with an emergency at his home in Retrieve, Linden.
Blair said that he had requested and was granted time off from the job to dispose of a dead cat in the ceiling of his home sometime around February 8th last year. He said that he left his work place at East Montgomery Mine around 7.30A.M in the company's bus to deal with the emergency but when he returned to work between 3.00 and 4.00 PM that day, he was accused by a manager, who saw him at the Linden Hospital Complex around 8.30 AM, of not being where he had asked permission to go.
Blair said that he was at the hospital to obtain chemicals to use on the decomposing carcass, which he successfully removed from the ceiling of his home before he returned to work. Blair said, although the managers sent members of BOSAI's security department to his home and they verified that he had, indeed, disposed of the dead cat, he was placed on five days suspension and was subsequently dismissed.
He said that he approached NAACIE, the bargaining agent for BOSAI workers to act on his behalf through the grievance procedure but he has been given the run around by NAACIE officials and Ministry of Labour officers.
Meanwhile, the PUGWU General Secre-tary contacted Stabroek News on Tuesday 24 March, stating that Blair although being a member of NAACIE is also a member of PUGWU. "Our concern as a union is that the matter has been going on for too long," Williams said. "This man has been dismissed since last year February. It is over a year and the matter is still ongoing and at the moment there is no resolution. The matter is still on the table. The Ministry (of Labour) is saying the matter is not at their desk. When you ask the union (NAACIE), the union is saying the matter is at the Ministry. So, we don't know where the matter is but we are prepared to stand by Mr. Blair's side. He's a member of our union and also a Guyanese. We will stand in solidarity with him. We will picket the office and we will continue this exercise as from today until the matter is resolved. If we are not getting any answers here, we will go and picket the Ministry of Labour because we don't know within the company or the Ministry where the matter lies."
Williams believes that the company could easily resolve the matter since, according to him, the evidence that PUGWU has received clearly states that Blair was wrongfully dismissed. He said Blair was given an open time off to attend to an emergency and he returned to work. "Further," Williams continued, "he was given sick leave for that day because he had been affected by the stench from the decomposition of the cat – and the medical personnel gave him a sick leave, which the laws of Guyana provides for. The company is on no grounds for dismissal, not even warning or suspension. So, we are saying that immediately, action should be taken to reinstate this man and we are calling on the Ministry to intervene if the company refuses to reinstate this man."
He explained that PUGWU is the bargaining agent for workers of Oldenoff Carriers Guyana, a company that transports bauxite from Aroaima on the Berbice River to New Amsterdam. Pointing out that members of other unions as well as individual persons can join PUGWU, Williams noted that Blair is a member of NAACIE, the union that represents BOSAI workers and PUGWU does not want to get into conflict with that union. He, however, highlighted that Blair is also a member of PUGWU which is legally bound to represent its membership across Guyana.
Around the Web