The Food Bank of the National AIDS Programme Secretariat (NAPS) yesterday benefitted from a quantity of non alcoholic,   nutritional beverages to support people living with HIV from Southland International Incorporated.
Speaking at the handing over ceremony, a release from NAPS said that Programme Manager of the Secretariat Dr. Shanti Singh noted that sustainability of the food bank was given highest attention. The release said that she congratulated Food Bank Manager, Somdatt Ramessar for the excellent work done in moving from zero percent private sector contribution in 2007 to 41% at the end of 2014.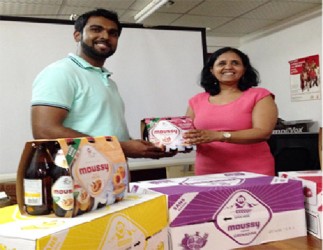 She also congratulated the private sector for staying with this initiative. In return, the release said that the Secretariat provides regular quarterly feedback to the Private Sector on the performance of the Food Bank. Singh said that persons must satisfy several criteria to become beneficiaries of the support. The eligibility is determined based on an assessment of the patient's socio economic status as well as the patient's clinical status.
Southland's Chief Executive Officer Irzad Zamal said that his company will continue to evaluate the possibility of their contribution being long term. He also called on his fellow private sector agencies to explore the possibility of coming on board with the Secretariat since he said they have a great role to play.
Moussy which is a non-alcoholic beverage will benefit persons living with and affected with HIV and those co-infected with Tuberculosis. As of 2014 some 937 new patients benefitted from food hampers from the Secretariat, the NAPS release said.
Around the Web