A young woman was on Tuesday charged with stealing cash from her former employer, which she said was intended to be used for her mother's surgery.
Parbattie Abhimanan, 22, bowed her head as she walked into the prisoner's dock at the Georgetown Magistrates' Court 1.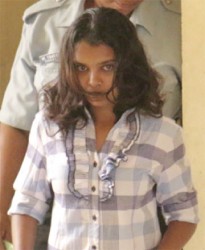 It is alleged that between March 5 and March 9, 2015, Abhimanan, now an ex-employee of Fullworks, stole $361,000 from Hardat Persaud.
Abhimanan initially pleaded guilty to the charge but changed her plea.
According to the prosecution, Persaud secured the cash in a drawer on March 5, 2015. He returned for the cash on March 9 but he noticed the drawer had been pried opened and the cash was missing. The matter was reported to the police and an investigation was carried out with all the employees. Abhimanan later admitted to stealing the money.
"It was for my sick mother's surgery," Abhimanan explained to Chief Magistrate Priya Sewnarine-Beharry as she continued to bow her head.
After Abhimanan changed her plea, the Chief Magistrate placed her on $75,000 bail. Her next court date is April 13, 2015.
Around the Web