Eleven years ago, a young woman journeyed from Mexico to Guyana to determine the feasibility of opening an office for the business process outsourcing company with which she worked. As the plane neared Guyana, she was taken aback when she looked through the window and saw no lights. Her hopes for the trip further dipped when she learned her luggage had not arrived. It got worse when the cashless young woman found out that there were no ATM machines at the Cheddi Jagan International Airport, Timehri for her to use her bank cards.
Still, not daunted, she exited the airport and was approached by a taxi driver, who offered to take her to her destination free of cost after hearing of her plight and indicated that she could pay him later.
This was the story of Qualfon's entry into Guyana, according to its Chief Executive Officer Mike Marrow, who said he would have remained at the airport and caught the next plane out of Guyana had it been him in the woman's place.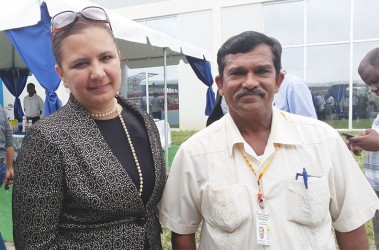 But instead Executive Vice President of LATAM & Global Solutions-Qualfon's parent company-Alejandra Romero stuck it out and today Qualfon boasts of being one of the largest companies in Guyana, with thousands of Guyanese making up its workforce.
The company yesterday officially expanded its operations here with the opening of the US$4M Qualfon Guyana Campus at Providence, which is expected to employ over 3000 persons in its first phase. The company already has locations at Beterverwagting and Goedverwagting, on the East Coast of Demerara.
At the opening yesterday was taxi driver Wazeed Manjoor, known as 'Waja,' who had aided Romero. He told Stabroek News that he had no difficulty offering to give the young woman a free ride because it is something he has done often during the 30 years he has been working at the airport.
Told that he was a hero and that he "represents the best of your country" by Marrow, Manjoor said he was honoured to be invited to the opening and he even managed to have a few minutes with President Donald Ramotar, who hailed him for reflecting the country in a good light.
Romero, for her part, said she sees Manjoor on every trip she makes to Guyana and she is now a faithful customer.
'Transformed lives'
For Minister of Finance Dr Ashni Singh, the story told by Marrow was "fascinating." He said every Guyanese makes a difference to the well-being and prosperity of the country but the ordinary Guyanese do not sometimes understand the impact they have on the "big picture." He added that the story told is one he will be using in the future, while noting that had the welcome been different thousands of Guyanese jobs would have been lost.
"An ordinary Guyanese taxi driver, going about his work in a very unassuming way, doing what he thought was a very simple kind gesture, could literally and probably did literally in that act influence a major investment venture that resulted in thousands of Guyanese jobs being created," Singh said.
He told the company that it has "literally transformed lives" by employing thousands of Guyanese and improving their lives.
"I have seen how persons have walked through your doors, found employment and improved their own lives," the minister said of the company.
And he was also "happy" for the part of the story where no lights and ATM machines were seen as it gave him an opportunity to say how much things have changed. "Today when you land at the airport, you do see lights and when you come out of the airport there is a ATM machine and the vast majority of ATM machines in Guyana now accept almost every international credit card…," he stated, while arguing that it speaks of positive change and demonstrates how much Guyana has been transformed.
"You landed at an airport that now has lights but very soon you would be landing at a very bigger airport and when the rain starts falling you wouldn't have to whip out your umbrella that you forgot to pack…because, as you might know, we are now building a major international airport," he added.
Singh said the larger airlines have indicated that they need a large airport were they to introduce direct flights to Guyana and he wants the company's clients to get on a plane and arrive in Guyana without changing planes.
According to Singh, Qualfon started with a single client and over the years he has met many other clients that the company brought to Guyana and now the company has graduated to serving "mega clients" out of Guyana.
The minister said the government is committed to the business process outsourcing industry as a source of growth in the future in Guyana, since it is the creator of more jobs than any other industry here for the past half of a decade.
Largest contact centre
Qualfon, which operates as a call centre for many businesses worldwide and has been operational in Guyana for the past ten years, is set to have its new location fully operational by May and is currently hiring customer service representatives, and technical support representatives. Upon completion, it is expected that the new location will be one of the largest contact centre campuses in the world and will be distinctive because of the solar power panels, green building materials, a rain water collection system, and an onsite wastewater treatment facility, which make the campus eco-friendly and environmentally sustainable.
Located behind the National Stadium, the campus is expected to have two separate contact centre operation buildings and 3,500 workstations. The first building became operational as of yesterday and it includes a training centre and cafeteria. There are also plans to construct a second contact centre as well as a community centre, interfaith chapel and a clinic. These are designed to "make people's lives better," as is stated in the company's mission statement.
The company said it would offer programmes and services to serve the needs of its employees and their family members at the campus. These would include free training, educational courses and art and cultural opportunities; free medical services on location; milk subsidies for children of employees and to local orphanages; worksite chaplains to offer advice and counselling and access to resources; a shared library system; and volunteer opportunities for humanitarian projects.
Around the Web