With Guyana recognised as a "real contender" in the region for the outsourcing industry, President Donald Ramotar yesterday said his administration is working on creating a highly-educated workforce that is second to none in order to assure investors that world class service is available for their companies.
Speaking at the opening of Qualfon's new campus at Providence, East Bank Demerara which promises 6,000 jobs in three years, Ramotar may have been making a pitch to the company's many investors who were seated in the audience as he listed what his administration would be doing to make the country friendlier for investment.
With general elections just weeks away he emphasised that the most important factor for development is not just the natural resources but the quality of the country's people. "This is the direction that we have been going. If you look at our records, you would see that we have focused the biggest section of our budget spending… on our social sector… as that is where we affect most of the lives of our people," he said.
Qualfon, a global provider of contact centre, back-office, and business process outsourcing services, on September 4th, 2013 turned the sod at Providence for the US$4M ($800M) first phase of the complex.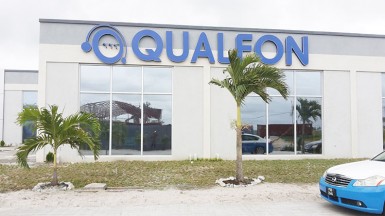 Ramotar said Guyana has not only achieved universal primary education but is on the verge of achieving universal secondary education and very soon this will be the minimum level of education.
He also said that in the not too distant future every single secondary school would be equipped with information technology (IT) labs as IT literacy is becoming extremely important for workers of today. Moreover, he noted that Guyana wants to create a "highly-educated work force, second to none" and which must be competitive with those from any part of the world.
"We would invest to ensure companies like Qualfon will be able to attract more quality customers to know that… to know that we would be capable here of providing a world class service in Guyana," he said, before later noting that when Qualfon says Guyana is a good place to do business, "it matters, it makes a difference."
He referred to the recent discussions he had with India's Prime Minister Narendra Modi for the establishment of a world class IT centre in Guyana that could probably serve the rest of South America and the Caribbean. The investment will probably be located in the Providence area, according to the president.
Ramotar also noted that his administration is looking to very soon put more of its services online, with one of the aims being to "fight this perception of corruption [and] so that people can apply for things like work permits, visas, house lots etc. on the internet." "Make it more efficient and cut back on this perception that is being nourished politically as well and we need to do more of that," he added, in reference to concerns over rampant corruption and the country's consistently poor ranking on Transparency International's corruption perceptions index.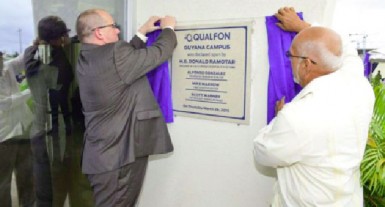 Although both Ramotar and his predecessor Bharrat Jagdeo have for years been championing a multi-billion dollar E-Governance fibre-optic cable project, it has been hit by numerous delays and the lack of experience by Project Coordinator, Alexei Ramotar, who is the president's son, has been blamed by critics. The project has been ongoing since January 2011 and was expected to be completed in 2012.
Ramotar also spoke about the controversial specialty hospital project, which he said would allow ordinary people in Guyana to have "access to marvels and science of technology." He also mentioned reading a medical journal which spoke about scientists experimenting on bringing back the dead. "This is amazing what is actually taking place, where we have reached that stage where man's mind is pushing even in that direction," he noted.
'A real contender'
Meanwhile, Kirk Laughlin, the Managing Director of Nearshore Americas and who is said to be an authority on the business process outsourcing industry, described Guyana as one of about 15 "real contenders" in the Caribbean and Latin Americas region for the $10B market. He said Guyana has "incredible potential" but the "road is long and there are many milestones ahead."
"There is a lot of money being spent out there. There are some markets that are extremely ambitious and extremely aggressive and virtually every one of these markets has a certain set of challenges they are dealing with. Things around violent crimes to human capital development to proximity, time zone, distance, all those factors are significant," Laughlin said.
But he warned that it is not guaranteed that countries would continue to grow as investment destinations and he pointed out that countries have fallen out of favour as some have gotten too costly and others have lost their edge.
"This is an important thing to think about as Guyana emerges, that there continues to be work that needs to be done…," he said.
He said companies are always asking about the state of human capital in various countries and that is an important factor in whether they would invest. "Are the right people available? Is there enough of them today? Will there be enough of them tomorrow? That's is 90% of the initial conversation," he said, while pointing out that the industry is a people's business.
He added that it comes down to what he calls "global fluency," which means whether the country's young people are developing to be globally fluent.
Finance Minister Dr Ashni Singh told Laughlin that he was happy for the very positive coverage he gave to Guyana. "It matters. Because when the President says it or I say it we are just another politician saying positive things about Guyana. But when an independent, unconnected industry authority like yourself says it, you are speaking not from partisan lenses, not from nationalistic or patriotic lenses [but] from the objective lenses… with the benefits of the removal of national favour or prejudices…," Singh told Laughlin.
Around the Web