The Bank of Guyana (BoG) on Thursday launched a gold plated silver coin to mark its 50th anniversary.
The coin, valued $5,000, was minted in Norway and its design was selected from an in-house logo competition, according to a Government Information Agency (GINA) report. It will be sold at a cost of $6,500.
Minister of Finance Dr. Ashni Singh, who was presented with one of the commemorative coins at Thursday's launch, was reported as saying that Guyana has stood strong while other larger countries were foundering. "…We should be vigilant and diligent in guarding and ensuring that we build on it while going forward… this is my call to the bank and other financial intuitions, and government is committed to helping build… the ultimate objective is a financial system which meets all the objectives of the country and the improved access to financing," he was quoted as saying.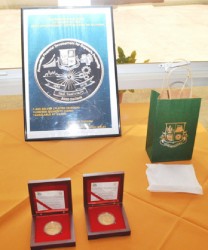 Singh also said the strong, stable financial system which Guyana enjoys has happened through legislative interventions to make the BoG a stronger and more independent institution. These, he noted, have broadened the supervisory perimeter of the bank, while achieving a strong and well-regulated system.
Singh also pointed to the fact that the building of the bank was a significant step towards Guyana's independence. He noted that Guyana will soon be observing 50 years of independence and observed that the coin has been launched on a special occasion. Meanwhile, GINA said Dr. Gobind Ganga, Governor of the BoG, noted that the institution has played the vital role of providing monetary and financial stability to Guyana, contributing to economic growth and development.
"The foundation laid so far is in a resilient banking and financing system as well as a buoyant economy which will not only provide for a stronger oversight of the financial sector to ensure its safety and function, but will also provide enhanced competition to reduce interest rates to afford financing for higher economic growth," Dr. Ganga stated.
He added that the BoG and the banking system at large have been repositioned to face future challenges and to take advantage of new opportunities to sustain growth and continued prosperity for all of Guyana.
The launching of the coin is part of the year-long activities planned to observe the BoG's 50th anniversary.
Around the Web