A Brazilian national was denied bail on Thursday after being charged with having cocaine in his possession.
Lemar Lema stood in the prisoner's dock confused as Chief Magistrate Priya Sewnarine-Beharry read him the charge at the Georgetown Magistrates' Court 1.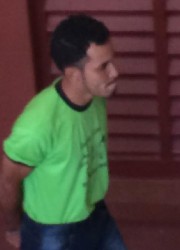 Lema, who only speaks Portuguese, was allegedly found with two and a half grammes of cocaine in his possession on March 25, at the Lethem Multipurpose Complex.
Lema's translator ex-plained the charge to him and after a while, still looking confused, Lema pleaded not guilty.
The 22-year-old man, who resides at 405 Tabatinga, Lethem, works with his family in and frequently crosses over to Boa Vista, Brazil.
He has no prior conviction, his attorney, Jerome Khan, explained as he pleaded for reasonable bail.
But the prosecution said the police were on duty when they saw Lema on his motorcycle. They subsequently stopped and searched him and the substance was reportedly found in his right side back pocket.
The prosecution objected to bail, while noting that no special reasons were advanced.
Magistrate Sewnarine-Beharry denied Lema bail. His next court date is June 1, at the Lethem Magistrate's Court.
Around the Web